Wonderwell Reopening April 1 — Updates to Covid Policies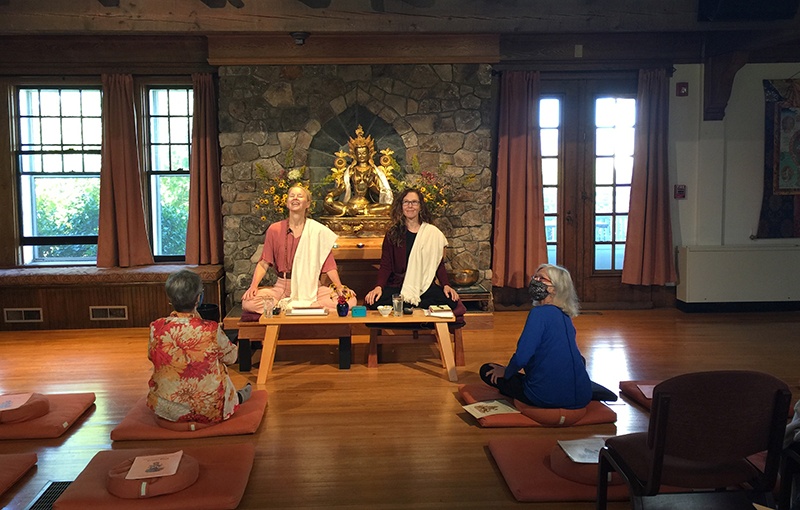 NDF COVID-19 Health and Safety Requirements
Natural Dharma Fellowship / Wonderwell Mountain Refuge
We plan to open Wonderwell for in-person retreats starting April 1, 2022, with the following policies. More details about implementation will be provided in the coming weeks. 
Natural Dharma Fellowship (NDF) is committed to keeping our visitors and staff as safe as possible during the unfolding COVID pandemic. Because coronavirus (COVID-19) and its variants can spread quickly and cause widespread illness and death, NDF has established requirements for vaccination, testing, face coverings, and occupancy levels, to protect staff and Sangha from potential exposure to this disease. 
COVID-19 Health and Safety Requirements
NDF's Board of Directors has created a COVID Task Force composed of clinicians and public health professionals from our Sangha and charged them with making policy recommendations based on evolving CDC, federal, and state protocols and mandates. We will continue to monitor:
public health conditions, (including case counts, hospitalizations, and other conditions)

federal, state, local directives

CDC and local public health guidelines closely and will adjust this policy as circumstances warrant to mitigate the spread of COVID-19.
In order to provide a safe and comfortable retreat environment, and to protect NDF Sangha and staff from potential exposure to COVID-19, the following risk mitigation measures will apply during in-person retreats:
Vaccination Required:

All onsite retreatants must be *fully vaccinated* and will need to present proof of vaccination at check-in.

We cannot admit you to Wonderwell without this proof

.  

Per

CDC guidance

,

people are considered fully vaccinated

2 weeks after their second dose in a 2-dose series, such as the Pfizer or Moderna vaccines, or 2 weeks after a single-dose vaccine, such as Johnson & Johnson's Janssen vaccine. 

In addition,

NDF defines "fully vaccinated"

as 2 weeks after having received an eligible booster shot.

Masks Required:

We are continuing to monitor this ever-changing situation and will adjust our mask policy accordingly. For the time being, we require that all retreatants and staff wear masks, preferably (K)N-95, indoors during all programs. Masks must be worn in all public areas of the building, including the meditation hall.

Exceptions:

When retreatants are in their own rooms

When actively eating or drinking.

The teacher can be unmasked while on the teacher's seat, as long as she can maintain physical distance of at least six feet from retreatants.

No Dorm Rooms/ Limits on shared rooms:

Single (private) and Double (shared) rooms only. This is to reduce extended close exposure of unrelated individuals. Double rooms will not be randomly assigned.  Retreatants may register for a shared double room with someone whom they know.

Limited Capacity:

The 40-person maximum capacity for all in-person programs at Wonderwell allows for adequate spacing in the meditation hall and dining areas.

Dining Changes:

The buffet line is no longer self-service. Serving staff will plate food items for retreatants from behind a plexiglass barrier. Two seatings may be used to avoid crowding.

Air Filtration:

High-quality air purifiers are in use in the meditation hall and dining areas.

Testing: A negative COVID-19 test result is required

before admittance to the retreat. Please test within 72 hours prior to your expected arrival at Wonderwell, using either a PCR test or a rapid (at-home) test kit.

Please bring a rapid test kit

with you to Wonderwell. We will have a limited number of test kits available for during-retreat testing.
Pre-Visit Health Instructions
Incorporate best practices for COVID-19 mitigation in your lifestyle and travel, at least during the 14 days before you visit Wonderwell. Use prevention strategies when traveling. 
Please reschedule your visit if, within the 14 days before your visit:
You are ill, experience symptoms typical of COVID-19, and/or test positive for COVID-19.

You have a known exposure to COVID-19.

You travel to a COVID-19 hotspot or travel Internationally.
In case of known exposure or travel, please continue to monitor for symptoms for 14 days after the exposure and communicate with us if you have any questions.   
We will not require that you reschedule after exposure or travel if you have tested negative on a PCR test taken 3 full days after exposure or return from travel, so long as you are not symptomatic.