From the Kitchen: Indian Curry Dinner Party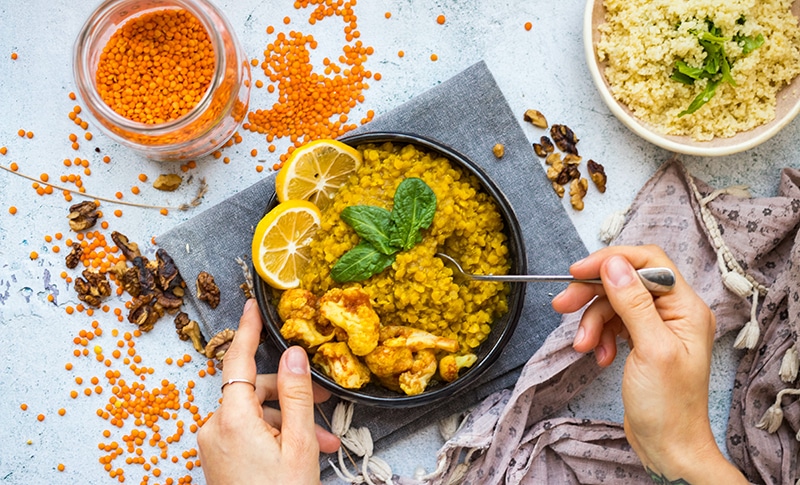 By Peter Blank (with Natalia)
I try not to get too enmeshed in opinions, either my own, or other peoples, but I will admit that when it comes to food, I think India might have found the greatest intersection between taste and health that I know of. Nowhere on Earth does there seem to be such a breadth of delicious, balanced and vivifying vegetarian meals. I think that thousands of years of Enlightened beings have bestowed not just deep spiritual wisdom, but also deep physical and culinary wisdom as well. Even pseudo-Indian dishes (chicken tikka masala, I'm sorry to say, isn't a traditional dish, but one likely invented in Britain by a South Asian chef. Don't hate the messenger!) still contain the potent benefits of traditional curry spices, and they are certainly potent. Try any of the heavy hitters on their own (I dare you!), turmeric, cinnamon, coriander, black pepper; they taste just about what you would imagine medicinal herbs should taste like: awful. But combined together in the right way, and they become the delicious embodiment of Hippocrates' axiom, to "Let thy food be thy medicine, and thy medicine thy food." So, without further ado, here are some of our favorite Indian dishes which we hope you love as much as we do. Make sure to pair with your favorite naan bread, flat bread or whatever you have on hand.
*Natalia and I try to use organic food whenever we cook, for our own bodies, the sangha members and the Earth we grow in*
Indian Curry Dinner Party
Creamy Red Lentil Curry with Vegetables
This recipe comes from a wonderful YouTube chef who goes by Rainbow Plant Life. She is a reliable, entertaining resource for delicious South Asian vegan food. Please check her out! https://youtube.com/c/RainbowPlantLife.
Good for 2-3 people
Ingredients:
3 tbsp ghee, coconut oil or vegan butter
1 cup red lentils
2 cups water or vegetable stock
2 tsp cumin
1 tbsp curry powder
1 tsp turmeric
1 tsp coriander seed, ground
1 tsp black pepper, ground
1 medium onion, finely chopped
2 medium sized cloves of garlic, finely chopped
1 large thumb-sized piece of ginger, finely grated
1 can coconut milk or coconut cream, depending on how creamy you want the curry to be
1 cup chopped cilantro
1 medium jalapeño, seeded (optional for heat)
1 tsp maple syrup or sweetener
Salt to taste
Directions:
Heat the oil or ghee in a medium sauce pan until a drop of water splatters, but before it starts to smoke. Add the onions, garlic & ginger, as well as the jalapeño if you want spicy curry. Let them sauté until they loose their "sharp" fragrance (there aren't enough words in English to describe smells, but we can make some up). Throw the powdered spices in, and mix them well with the oil and garlic, etc. Add some more oil if you feel like the spices might burn instead of sautéing nicely. Lastly, toss in the red lentils, and gently sauté them for a little bit until they saturate and absorb the rest of the oil. Once they have cooked for about 30 seconds, pour in the water or stock. Cover the pot and let come to a boil, then immediately turn down to the lowest heat setting for about 15 minutes. Once the lentils soften, pour in the coconut milk or cream and mix well. Leave uncovered and keep on low heat, and allow to thicken for another 10 minutes. Once the lentils are done, mix in the cilantro and leave some to sprinkle on top for a garnish. Add the sweetener little by little and taste along the way, until it tastes "balanced" to you. Do the same thing with salt. It's important to find the right balance between different flavors for a dish to come out well, but it can also be very individualistic. So take time and practice adding tiny amounts, stirring and tasting a recipe until it's "just right."
Aloo Ghobi
Note: Not everybody likes cauliflower. I get it, it's like a dead broccoli was reanimated by a mad scientist and unleashed on an unsuspecting community. So, if it's not your thing, just leave it out. We love it, but this recipe is just as good without it. But if you're worried that cauliflower is possessed or somehow a malevolent broccoli spirit brought back from the grave, feel free to jab it with a wooden stake before cooking.
Note Note: Traditional Aloo Ghobi does not include peas, but we added them: 1. in case someone doesn't want cauliflower, and 2. because they're tasty.
Serves 2-3 people
Ingredients:
4 tbsp ghee, coconut oil or vegan butter
1/4 cup water
2 tsp cumin
1 tbsp curry powder
1 tsp turmeric
1 tsp coriander seed, ground
1 tsp black pepper, ground
1 medium onion, finely chopped
3 medium sized cloves of garlic, finely chopped
1 large thumb-sized piece of ginger, finely grated
3 or 4 medium sized potatoes, cut into ¾ inch cubes
1/4 cauliflower head, broken or cut into florets
1 cup frozen shelled peas
3-4 medium ripe red tomatoes, or 1 can of chopped tomatoes if there are no good fresh ones
salt to taste
sweetness to taste
Note: you might have astutely noticed that the spices and base of this dish are very similar to the previous dish. Congratulations! You have found one of the secret keys to making tasty Indian curry. With these ingredients, you can make many, many delicious and nutritious meals, or at least start them.
Directions:
Pour or add the oil or butter to a large sauce pan and heat it on medium heat, until the surface shimmers and a drop of water causes the oil to spit (remember, don't let it smoke). Add the garlic, ginger and onion and sauté until fragrant and no longer having a "bite" in the smell. Next, add the spices and stir into the oil until well coated. Keep the heat on medium so as not to burn anything. Add the potatoes and sauté them gently for about 3 minutes, until they have been fully covered on all sides with the other ingredients. Add the water and cook the potatoes on low heat until they soften, about 8-10 minutes. Next, add the cauliflower and cook another 5-6 minutes. Finally, add the peas and crushed tomatoes, and simmer until the potato is tender enough to crush between your fingers. The cauliflower should be pleasant to chew but still have a slight crispiness. Add salt to taste, stirring constantly, and then balance a bit with a few dashes of maple syrup (go EASY with the sweetness. This dish is a lot less forgiving if over sweetened than the red lentil curry).
Basmati Rice
This one is relatively simple, yet often the most difficult to get "just right." We like to temper our rice in oil before cooking it, but not everyone does. We like to think it makes the rice less sticky, but I wonder if it's not just like turning a baseball in your hand the "right" number of times before you throw it. It feels good, but it doesn't really do anything.
Ingredients:
1 cups basmati rice
1 3/4 cup water
2 tbsp ghee or oil, divided
Large pinch of salt
1 bunch cilantro
1 clove garlic
Directions:
Rinse the basmati rice in a colander under cold tap water until the water runs clear. Alternately, put the rice in a bowl and fill with water. Swirl with a spoon or your hand until the water becomes cloudy. Pour off the water and repeat the process two or three more times, or until the water is clear. Put the rinsed rice in a pot with more water, then allow to sit for 20 minutes. Pour off the water and add the rice to a sauce pan. Add the 1 3/4 cups water, 1 tbsp of oil and the salt and bring to a boil. Then turn the heat down low and allow to simmer for another 15 minutes. Turn off the heat and allow the rice to finish absorbing water. In a frying pan, heat the remaining oil until shimmering. Add the garlic and gently sauté until fragrant. Add chopped cilantro and the garlic to the rice and serve.
Cucumber Raita
Ingredients:
1 cup full fat yogurt (sub vegan yogurt if you'd like, CocoJune is the best)
1 medium cucumber, peeled and minced
1 tsp toasted and ground cumin seed
1 tsp toasted and ground coriander seed
2 tsp lemon juice
3-4 tbsp chopped cilantro
1/4 tsp salt
1/4 tsp pepper
1 tbsp olive oil
Directions:
After having chopped the herbs, mix the ingredients well and garnish with a bit of cilantro. Alternately, you can quickly process everything except the yogurt in a food processor and then blend it all together by hand.
Mango Lassi
Anyone who has gone out for Indian food has probably had a mango lassi at some point. It isn't that complicated, but it is one of my favorite drinks to order at a restaurant. It's sweet, creamy, healthy, and just a bit tangy. This recipe can be made with real milk and yogurt, though it's just as good for vegans, provided you find the right substitutes.
Serves 3-4 people
Ingredients:
2-2.5 cups fresh, ripe mango (you can use frozen if you need to, but juicy, ripe mangos can't be beaten)
2 cup vegan yogurt (check out CocoJune if you can find it. Natalia and I were blown out of the water by it)
1 cup non-dairy milk (our favorite is Oatley, or else Chobani. Both are great.)
2 tbsp maple syrup or honey
1 large pinch of ground cardamom
Directions:
Place all the ingredients in a blender and blend for about two minutes, or else until the lassi is smooth. If you want a bit more texture, add the mango last and blend for a little less time. If you want it more like a milk shake, add a tablespoon or so less milk, and substitute a couple ice cubes. Feel free to add a bit of cinnamon or a dash of nutmeg for a more complex flavor. Pour into serving glasses and enjoy.
Lemon Olive Oil Polenta Cake (Gluten Free)
This irresistible lemon olive oil cake is supremely tender with a slight crunch from cornmeal. It's a FOOLPROOF tea cake with a bright lemon flavor that's perfect for any occasion. The simple cake gets a triple dose of lemon flavor from lemon zest, lemon juice and a 2-ingredient lemon glaze (oh swoon). If you'd like, you can garnish the cake with baked lemon slices (see the recipe in the Note below—they can be baked at the same time as the cake). The cake is so moist and tender that you don't need anything with it, but if you want to gussy things up you can add a dollop of unsweetened whipped cream or a scoop of vanilla ice cream.
Note: This recipe comes the website www.fromscratchfast.com. You can find the original recipe here: https://fromscratchfast.com/lemon-olive-oil-polenta-cake-recipe-gluten-free/
Equipment:
9-inch springform pan (or 9-inch cake pan)

Cooking spray or olive oil, for pan
Dry ingredients:
2 cups (220g) Bob's Red Mill Super-Fine Almond Flour

3/4 cup (115g) Bob's Red Mill Medium Grind Cornmeal

1 1/2 teaspoons baking powder

1/2 teaspoon fine sea salt
Wet ingredients:
3 large eggs

1/3 cup milk

1/3 cup extra virgin olive oil

3/4 cup (160g) organic cane sugar (or regular granulated sugar)

Zest of 1 medium lemon

1/4 cup fresh lemon juice (from about 1 ½ – 2 medium lemons)

1 teaspoon vanilla extract

1 teaspoon almond extract
Lemon Glaze (optional):
1/2 cup (60g) confectioner's sugar

1 tablespoon lemon juice

Baked lemon slices for garnish (optional), see Note below*
Instructions:
Prepare the pan
Preheat the oven to 350˚F (175˚C) with a rack in the middle. Spray a 9-inch springform pan with cooking spray (or brush it with olive oil). Line the bottom with a round of parchment paper, then spritz the parchment with cooking spray as well.

Whisk the dry ingredients
In a large bowl, whisk together the Bob's Red Mill Super-Fine Almond Flour, Bob's Red Mill Medium Grind Cornmeal, baking powder and fine sea salt. Use your fingers to break up any clumps of almond flour.
Whisk the wet ingredients
In a small bowl, whisk together the eggs, milk, olive oil, sugar, lemon zest, lemon juice, vanilla extract and almond extract. Pour the wet ingredients into the dry ingredients and whisk until smooth (the batter will be quite loose).
Bake the cake
Scrape the batter into the prepared pan. Bake the cake on the center rack until it's until golden brown, very lightly cracked on top, and a toothpick in the center comes out clean, about 35-38 minutes.

Transfer the cake to a rack and let it cool for 10 minutes. Run a thin knife (or small off-set spatula) along the edges then remove the springform sides. Let the cake cool completely.

Glaze the cake (optional)
Carefully transfer the cake to a serving plate (it's a fairly delicate cake, so take care—or just serve it on the springform base!). In a small bowl, whisk together the confectioner's sugar and lemon juice until smooth. Scrape the glaze over the top of the cake, then spread it in an even layer (it will be a very thin layer of glaze). If you'd like, garnish the cake with baked lemon slices. Let the cake sit for 15 minutes (or up to 4 hours) to allow the glaze to harden before serving.
*Note: Baked lemon slices (for garnish): Baked lemon slices are a pretty (but totally optional!) garnish. They can be baked at the same time as the cake. Cut 1 medium lemon into ¼-inch slices. Pop out and discard the seeds. Arrange the lemon slices on a parchment lined baking sheet in a single layer. Bake in a 350˚F (175˚C) oven on the bottom rack until the lemon slices are browned on the bottom, about 25-30 minutes. Flip the slices over and bake until browned on the other side (they should feel mostly dry to the touch), about 10-15 minutes longer.