Wonderwell Mountain Refuge
Buddhist meditation retreat center dedicated to the cultivation of mindfulness, wisdom, and compassion for a better world.
Natural Dharma Fellowship's Retreat Center
Wonderwell normally hosts residential group retreats year-round. 
Please note that all onsite group retreats are currently suspended due to the dangers of the COVID-19 pandemic.
Why Wonderwell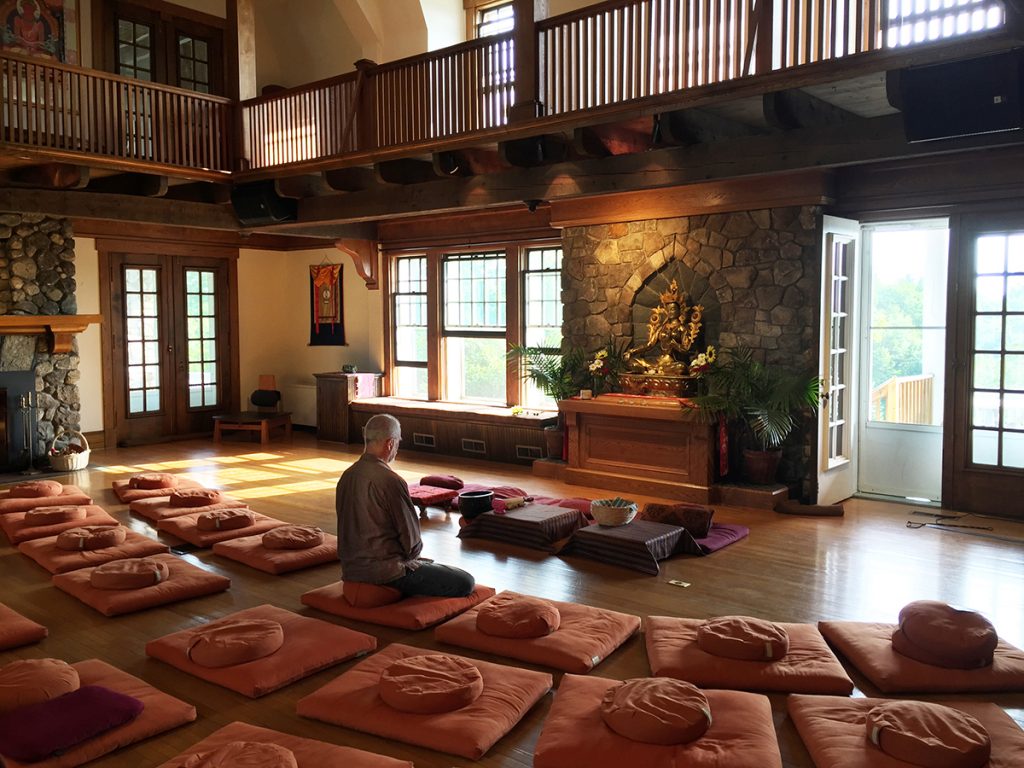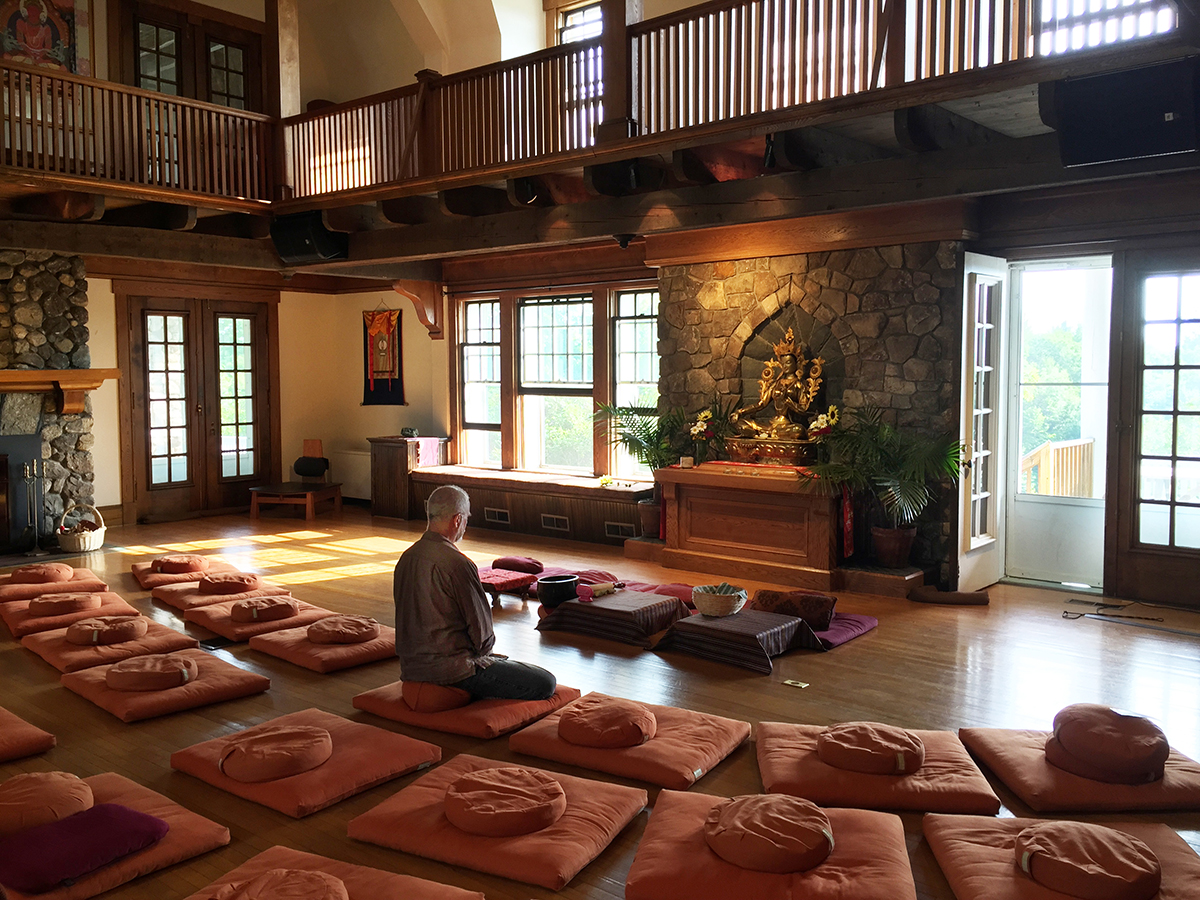 Wonderwell Mountain Refuge is Natural Dharma Fellowship's meditation retreat center. Nestled on a quiet country road in rural New Hampshire, it has provided a sacred home for the practice and teaching of Tibetan Buddhism since its founding in 2011.
Set on a west-facing hillside with sweeping views of forest, sky and mountains, the house and grounds provide a calm and peaceful oasis. The graceful building has been beautifully restored and lovingly maintained to serve as a home for the Dharma. Natural beauty embraces the living tradition of Buddhist practice and teaching that resonates here. It is a place for those who wish to connect more deeply with their own innate wisdom and compassion and source themselves for courageous loving action in the world.
Wonderwell's twenty-five acres include lawns and gardens around the main building, with fields and forest below. Our 15,000 square-foot facility can accommodate up to 40 overnight guests – each guest room is unique, and many have private baths. The meditation hall features our Tara shrine, two original fieldstone fireplaces, a suspended balcony, and seating for 100. Simple yet delicious meals are prepared in our commercial kitchen and served buffet-style in the adjoining serving and dining areas. Small sitting nooks around the building provide quiet spaces for reading, meditation, and contemplation.
A Historic Building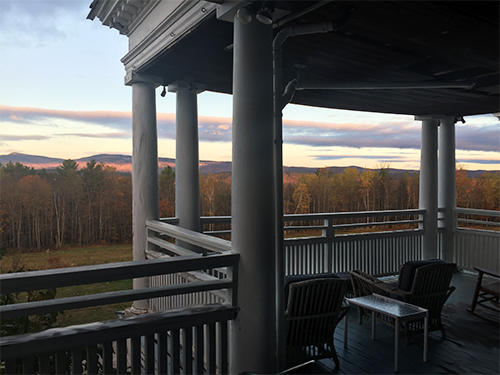 Wonderwell's main building was constructed in 1911 by the Stoddard family of Washington DC as a vacation home. It was part of the "Little Washington" summer colony that flourished in the area during the early decades of the 20th century. A number of prominent Washington families spent their summers in Springfield, with a vibrant community life centered on outdoor recreation and social gatherings. Mrs. Stoddard, a devout music lover, commissioned construction of a spacious ballroom in the home in order to host musical concerts and dances during the summer months (this space now serves as Wonderwell's meditation hall). In a notable media reference from the time, it was reported in August of 1912 that Mr. and Mrs. Stoddard held a ball for young people which was attended by 50 couples. In this way, our historic building came into being as a place dedicated to music, laughter and the enjoyment of nature.
The building's architecture is classic Shingle Style, with a gambrel roof and prominent front portico. Other features include a large covered porch for outdoor dining and relaxation in the warmer months, wide fieldstone fireplaces for heating in the winter, and a dramatic suspended balcony in the main hall. The craftsmanship in woodwork and design is clearly evident, and the warm glow of polished wood is quietly resplendent all around. Architectural embellishments such as scalloped wood-shake siding and corbelled eaves grace Wonderwell's exterior, while carved wooden banisters, built-in cabinetry and wainscoted walls accent the interior spaces. 
At Natural Dharma Fellowship, we see ourselves as stewards of this historic property. In 2015 NDF commissioned a full historical inventory, which resulted in Wonderwell's inclusion on the New Hampshire Historic Registry. We have taken it as our sacred charge to restore, renovate and protect this place for future generations. Much has already been accomplished, while other projects await future funding. In all we do, we seek to preserve and propagate the vibrant energy that abides here for the benefit of all.
The Name and Area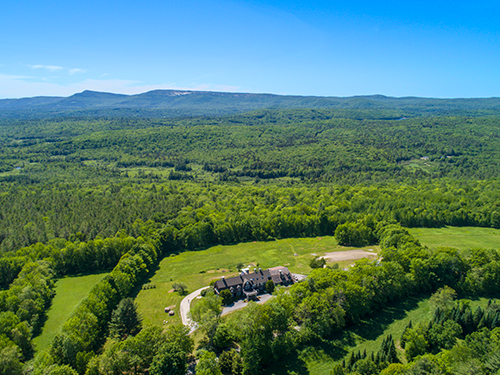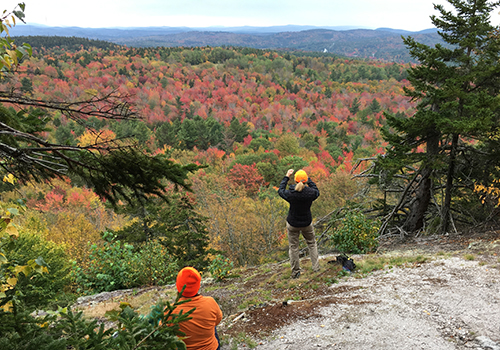 Wonderwell is named for the fertile well that has always produced water on this site, even during times of severe drought. The name predates the current Wonderwell building, originating in an earlier time when this location was a farm. According to local history, when other wells in the area dried up or failed, the "wonderwell" on Philbrick Hill continued to provide life-sustaining water. This idea of an unquenchable source deep within resonates strongly with Buddhist principles and seemed perfect as a name for our retreat center.
The house is partially shielded from a country road by majestic, old oak trees, and is framed by well-established perennials, with multiple garden spaces. Behind the house is an acre of open field that gives way to sloping forested land with excellent trail system potential and sites for several retreat cabins. The back of the house faces west toward jaw-dropping, sky-gazing views of Mount Croyden, behind which the sun sets in the evening.
Springfield, New Hampshire is a small, rural town with a population of 1,311. It is home to Lake Kolelemook, which has a public swimming beach, and to Gile State Forest, 7000 acres of protected woodlands, hiking and mountain biking trails, snow shoeing and cross-country skiing. Springfield is located seven miles from New London and Little Lake Sunapee.
See the links below for more information about the area:
Land Acknowledgement
Our Land's Ancestors
Acknowledgement of the Abenaki and Penacook People
Just as we honor the Tibetan Buddhist lineages from which our teachings and practices flow, Natural Dharma Fellowship pays homage to the Indigenous people who inhabited and stewarded the beautiful land where Wonderwell stands today.
This geographic area, now known as New Hampshire's "Upper Valley", includes the land bordered by the Merrimack River to the east and the Connecticut River to the west. For centuries prior to the arrival of Europeans this region served as the hunting grounds for the Abenaki and Penacook tribes who migrated seasonally, combining hunting and gathering with agriculture.
Colonialism took a heavy toll on these people. Increasing settlement by Europeans in the 1600s put tremendous pressure on Abenaki and Penacook communities and their way of life. With the fighting and disease that accompanied this foreign occupation of their ancestral lands, most of these people left, fleeing north to establish settlements in what is now Quebec, only returning to hunt in places left unsettled by the colonists.
Natural Dharma Fellowship remembers and honors these peoples and tremendous difficulties they have faced and continue to face.
Types of Retreats
Wonderwell's retreat offerings include:
Silent group retreats to deepen in meditation practice and explore the application of Buddhist teachings in everyday life.
Contemplative retreats for activists, educators, caregivers, artists, writers, and others.
Gatherings that explore the intersection of Buddhist ethics and ecological stewardship.
Yoga and mindful movement retreats.
Third-Party Retreats
Wonderwell also hosts retreats by like-minded organizations with harmonious visions
Organizations that have held third-party retreats at Wonderwell include: The Foundation for Active Compassion, Courage of Care, New London Hospital, One Earth Sangha, Valley Insight Meditation, and others.
If your organization is interested in holding a retreat at Wonderwell, please send an inquiry email to info@naturaldharma.org
Onsite at Wonderwell Mountain Refuge
Come deepen your practice in solitary retreat.
Experience the peace and tranquility of Wonderwell and explore your inner nature amidst the spacious beauty of mountains, sky, and forest.
The experience of being at Wonderwell is something very special. Many people have come here to share this experience and its benefits. We hope you will join us here, too. The natural beauty, the graceful building, the love and care and deep practice that happen here – all contribute to a serene and supportive atmosphere for the Dharma.
This section provides practical details about staying at Wonderwell Mountain Refuge to help you plan for a successful retreat. We hope to welcome you in the near future!
Notice: All onsite group retreats have been suspended due to the COVID-19 pandemic. We encourage you to explore our online retreat offerings and we look forward to a time when it is once again safe for us to gather in person at Wonderwell.
Group Retreats
Accommodations
A number of sleeping options are available when staying on retreat at Wonderwell. Our 15,000 square-foot building has 17 bedrooms, with a total capacity of 38 overnight guests.
There are a few private rooms, multiple shared rooms (twin beds/double occupancy), as well as dormitory style accommodations. We also have a premium "benefactor suite" option with separate entrance and deck, king-size bed, private bath, sitting room, and small kitchen. In warmer months (May – October) we also offer tent-camping on the grounds.
Some rooms offer ensuite baths, while others (including the women's and men's dorms) share bathroom facilities. All accommodations are available on a first-come, first-serve basis.
Shared rooms are assigned by gender through our registration platform. This helps ensure that unrelated men and women are not assigned to room together unless specifically requested. Accommodations for non-binary and transgender people are handled through direct communication with the registrar.
Our ADA-compliant, disabled-accessible guest room has a private bathroom with walk-in shower, grab bars and appropriate fixtures. If you have need for these accommodations, please email the registrar well in advance of any retreat to enquire about availability.
Meals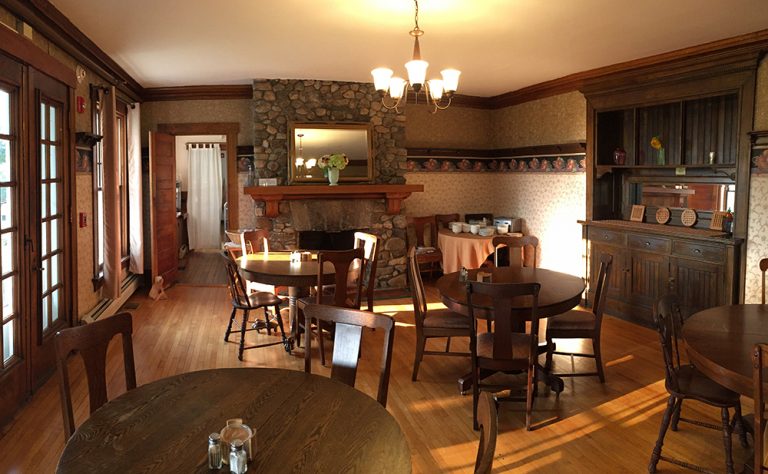 Wonderwell's meals are provided by our talented sangha chefs. As much as possible, we select local and organic foods to provide well-rounded and nutritious vegetarian meals which include gluten-free, dairy-free, and vegan options. Healthy snacks are available between meals. Tea is available around the clock and the coffee pot is on until 2:00 pm daily.
If you have severe food allergies or special dietary needs, please provide this information on your registration form.
We have limited ability to accommodate special diets beyond the options listed above. People with special dietary needs are encouraged to bring any supplemental food they may need. A separate refrigerator and food storage area are provided for this.
If you are participating in a retreat as a commuter, you are included in all meals. Please inform the retreat manager if you do not intend to eat onsite.
Yogi Jobs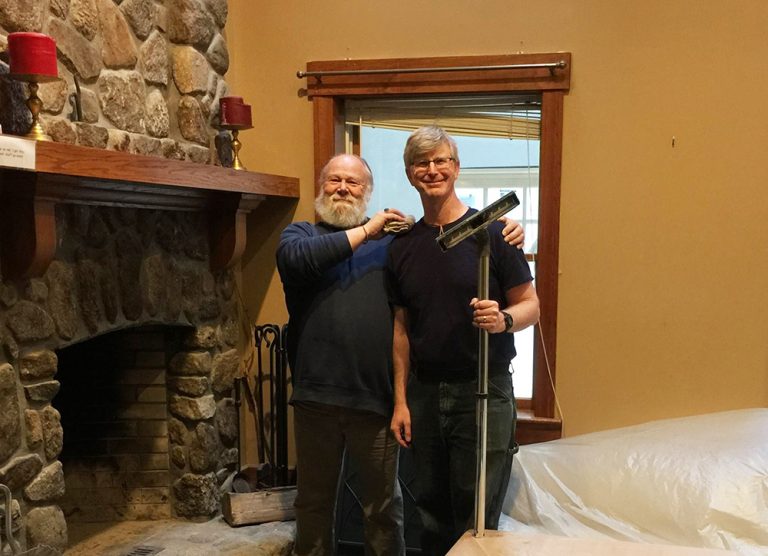 During group retreats, you will have the opportunity to integrate your practice into the activities of daily life by performing a service task for the benefit of your fellow retreatants. We call these "yogi jobs" and they include things like dishwashing, gong ringing, coffee making, and simple cleaning tasks.
At check-in, you will be asked to sign up for a Yogi job which will not take more than an hour a day and (most) do not require special skills or heavy manual labor. These jobs, while simple, are essential in supporting the day-to-day environment that serves all those attending the retreat.
Arrival and Departure
On-site check-in for retreats generally happens between 3:00 – 5:00 pm on the opening day. Please do your best to arrive during this time window. A light dinner will be served, with orientation and opening session to follow.

Retreats generally end with a light lunch at noon on the closing day. We ask that all guests depart Wonderwell by 2:00 pm so that staff can finish their work and go home as well.
Solo Retreats
Onsite Solo Retreats at Wonderwell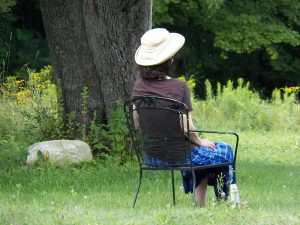 We are happy to offer the experience of solitary personal retreat at Wonderwell. These are happening even during the COVID-19 pandemic.
Our solo retreat spaces are self-contained, with private entrance, kitchen and bathroom. Safeguards are in place to minimize contact and protect both retreatants and staff.
A solo retreat is an opportunity to deepen your practice, on your own, in the peaceful and supportive environment of our center. This type of retreat is self-led, without any formal program or instruction, and is intended for people with an established Buddhist practice and at least some experience with meditation retreats.
What to Bring
In general, you should plan to bring only items that will support your practice for the length of time you will be on retreat. The idea is to leave behind distractions as much as possible and simplify your daily routine.
With that in mind, we present the following suggestions:
Comfortable clothing for sitting, yoga, hiking, etc.
Sturdy outdoor shoes (for hiking or walking)
Indoor slippers (outdoor shoes are not allowed inside the building)
Closed-lid beverage container (for the Meditation Hall)
Flashlight or headlamp (for reading after 'lights-out', power outages, etc.)
An alarm clock (most retreats do not offer wake up bells)
Sheet set with pillowcase (Twin or Queen based on your room type)
Bath & hand towels
Appropriate nightwear
Personal medications
Unscented toiletries
Lightweight luggage (most rooms are on the second and third floors)
Ear plugs (snoring protection for shared rooms / dorms)
Notebook and pen
Please Do Not Bring
Candles or incense (no open flames except in the meditation hall)
Perfumed products
Drugs or alcohol
Pets
Valuables (bedroom doors do not lock so plan accordingly)
Important Policies
Noble Silence
As Natural Dharma Fellowship's home for deep retreat, Wonderwell resonates with the practices of silence, contemplation, and meditation. Most of our retreats include the practice of Noble Silence in which participants refrain from talking in order to reduce distractions and deepen their practice. This can be a bit strange for those who are new to it, but it is a time-tested and effective method for connecting with our deeper selves, below the level of conceptual thought.
Communication
You are strongly encouraged to unplug from email, computer, and cell phone activities while on retreat. We do understand that there are some cases when contact with the outside world may be necessary. If you need to check email or make a phone call, please consult Wonderwell staff about an appropriate time and place to do this. In all cases, we ask that you take care not to disturb others.
In case of emergency or where urgent contact is needed, you can provide our main telephone number to those who may need to reach you: (603) 763-0204. This phone number is monitored periodically during the day and at night by a retreat manager.
Smoking
Wonderwell is a smoke-free facility. No smoking is permitted in the building or anywhere on the premises.
Alcohol and Other Drugs
Wonderwell is also an alcohol-and-drug-free facility. None are allowed.
Dress
Dress at Wonderwell is relaxed and informal. Guests should bring modest and comfortable clothing, as well as seasonally appropriate items for warmth or comfort. Layers of clothing are best, as temperatures tend to fluctuate in all seasons.
Pets
We love animals but cannot accommodate pets.
Lost and Found
It happens. Despite repeated reminders from our staff, items do sometimes get left behind. If this happens to you, please let the registrar know. We will do our best to reunite you with your belongings. There is a minimum charge of $15 for lost and found returns. Heavy or bulky items may incur additional shipping fees. Unclaimed personal items will be held for 2 months, and then donated to charity.
Fragrance
While we strive to provide a fragrance-free environment at Wonderwell, some products that we use do have subtle scents. If you are extremely sensitive to fragrances, please include this information in the comments section of your registration form. We will do our best to accommodate you, but cannot guarantee that the entire building will be fragrance-free
Commuter Options
Scholarships
NDF Scholarships
It is Natural Dharma Fellowship's aspiration that no one is turned away from teachings and retreats due to the inability to pay.
Financial aid opportunities are available through Natural Dharma Fellowship to offset the cost of retreats. We strive to offer retreats in a manner that is non-cost prohibitive and inclusive to persons of all means. If the full retreat cost would create an undue financial burden, we encourage persons to apply for scholarship and work-study. Whether you would like to request aid to defer a large or small portion of the cost of a retreat, we encourage you to apply. Financial aid is available for both on-site and online retreats.
To apply for a scholarship for online retreats, please go to Online Retreat Application.
Please direct any questions concerning Natural Dharma Fellowship's scholarship program to retreats@wonderwellrefuge.org.
Wonderwell is approximately 2 hours from Boston and 5 hours from New York.
There is ample parking on the grounds. At this time we are not able to offer car-pool coordination.
From the Upper Valley:
Wonderwell is about 30 minutes south of White River Junction, VT and Lebanon, NH on Interstate Highway 89. Take 89 South to exit 13 (Grantham). At the bottom of the exit ramp, take a right turn. Continue past the Fire Station and Post Office until you intersect NH Route 114. Turn left on Route 114 and go about 4 miles until you reach Philbrick Hill. Turn left on Philbrick Hill Road and Wonderwell is at the top of the hill on the left.
From Boston:
Wonderwell is a 2-hour drive from Boston. Take Interstate Highway 93 North. Just before you reach Concord, NH take Interstate 89 North. Take Exit 12A (Springfield) off of 89. At the bottom of the exit ramp, take a right turn. When that road T's, take a left onto Route 114. Take Route 114 past Lake Kolelemook (on your right) and through the small town of Springfield. Turn right on Philbrick Hill Road and Wonderwell is at the top of the hill on the left.
From New York City and points South:
Wonderwell is about 5 hours from NYC. Take Interstate Highway 95 North to New Haven, CT and then take Highway 91 north. Stay on Interstate 91 through Connecticut, Massachusetts and into Vermont. When you reach White River Junction, VT take Interstate 89 South into New Hampshire. Then follow the directions shown above for "From the Upper Valley".
Dartmouth Coach provides bus service from Boston and New York City to the "Upper Valley" of New Hampshire where Wonderwell is located. You can view the schedule and purchase tickets on their website. Click here.
Natural Dharma Fellowship offers pickup and return service for two Dartmouth Coach bus stops near Wonderwell: Lebanon and New London. We charge a small fee for this. If you will be traveling by bus and need us to provide pickup and drop-off, please arrange this well in advance of your retreat. You can select and pay for this service during the registration process. The Registrar will then be in touch with you to finalize your transportation arrangements.
Frequently Asked Questions