From the Kitchen: Our Take on A Green Curry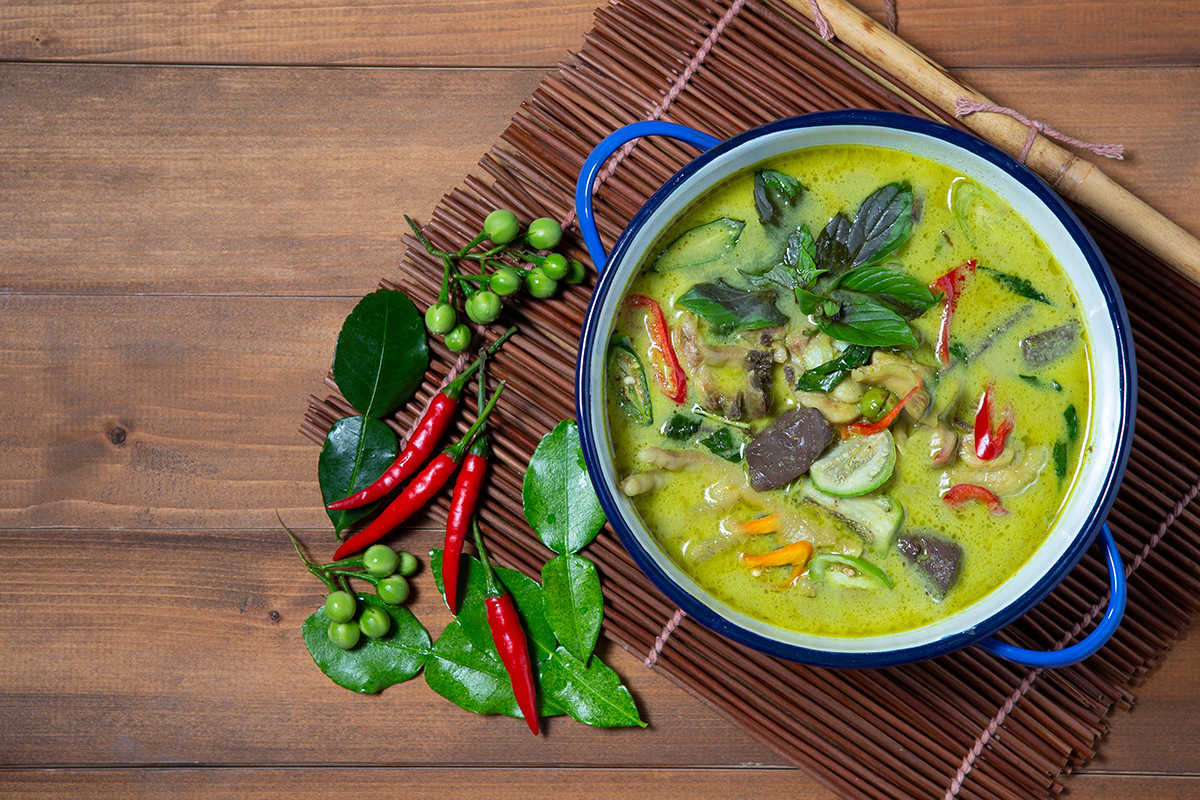 By Peter Blank (with Natalia)
I've made some bold claims about food here before, like my feelings on the virtues of Indian curries and their magical powers, but I should amend those claims. Thailand might be the center of the world when it comes to tasty cuisine. As near as I can tell, they share as many cooking styles, ingredients and flavors with the Chinese as they do with the Indians, and yet their food is all their own. To me, it is the brightest, most lively and most buoyant cuisine I know of, effortlessly blending noodles and stir-fry with curries, and where Indian food uses milk, cream or paneer cheese, Thai food offers coconut milk and tofu. While most Thai curries have fish or shrimp sauce, and Thailand's extensive tropical coasts make for wonderful seafood dishes, these can be excluded with ease and all the flavors of Thai ginger, basil, coconut milk, hot chilies and peanuts will you make you forget you're eating a 100% vegan meal. Our favorite Thai dish to cook at Wonderwell is our own take on a green curry, minus the fish sauce.
Thai Green Curry, Crispy Tofu with Hoisin Sauce & Jasmine Rice
Thai Green Curry
*Note: Most ingredients for Thai dishes are easy to find in your grocery store. One of the more rare, but flavorful ingredients, though, is the kefir lime leaf. Any specialty imported or Asian grocer will certainly have them. You can buy them in bulk and keep them in a large jar if you plan to make Thai food often. They add a special almost umami-like lime flavor to a dish which is instantly recognizable. I am always impressed with Thai ingenuity regarding limes. It seems like almost every part of the tree gets used: the fruit, the juice, the peal and the leaf, to wonderful effect.
Makes 2-3 servings
Ingredients:
1 yellow onion
4 cloves of garlic
5-6 kefir lime leaves
2 tbsp vegan green curry paste
1 medium zucchini
1 head broccoli
1/2 cup snow peas
1 medium sweet potato
2 medium carrots
1/2 cup sweet peas
2 cans organic coconut milk
2 limes, zested and juiced
1 bunch of Thai basil (about 1 loose cup)
2 tbsp coconut oil
1-2 tbsp maple syrup
soy sauce to taste
Directions:
Chop all the vegetables and set aside in separate bowls. Heat the oil and sauté the onions and garlic until fragrant. Add in the curry paste and lime leaves, and sauté for another minute or so. Next, add the sweet potato and carrots, reduce the heat to a simmer and leave covered for about 5 minutes, stirring every minute or so. Next, add the other vegetables and sauté until beginning to soften. Pour in the coconut milk, bring to a boil, then reduce heat and let simmer for 3-4 minutes. Once the flavors have combined, add the lime juice, lime zest and maple syrup. Add soy sauce, one teaspoon at a time, until desired level of saltiness has been reached. Add more maple syrup and lime juice if the flavor balance is off. Remove the basil leaves from the stems, add the stems to a food processor and blend with 2 tbsps of the curry until liquified. Add back to the pot, and stir in the basil leaves. Stir until the basil has wilted, then serve.
Crispy Tofu with Hoisin Sauce
Makes 2 servings
Ingredients:
1 block organic extra firm Tofu (if you live in the Northeast, try Heiwa. It's delicious, organic and local)
1/4 cup corn starch
1/4 cup hoisin sauce
3/4 cup cooking oil
Directions:
Take the tofu out of the package and press it to remove the moisture. Cut the tofu into 1/2 inch cubes. Put into a bowl, and add the corn starch. Toss the tofu with the starch until each cube is thoroughly covered. Quickly toss in a sieve to remove excess. Heat the oil in a pan until a drop of water cracks when dropped in. Put the tofu in and let it cook on medium to medium high heat for about 5 to 7 minutes. Turn each piece and fry until brown. When all sides are browned, put back in the colander and allow the excess oil to drain. Clean and dry the bowl, then mix the cooked tofu and hoisin sauce together. Try a piece and add a little more sauce if they aren't flavorful enough. Serve.
Jasmine Rice
Makes 2 servings
Ingredients:
1 cup organic jasmine rice
2 cups cold water
2 tbsp oil
3/4 tsp salt
Directions:
Add the oil and rice together and sauté gently for 2-3 minutes on medium heat in a sauce pan. Add the water and salt and bring to a boil. Turn the heat to low and simmer until the water disappears below the rice (try not to check too many times, it should take about 7 minutes for the water level to drop below the rice). Wait another 5 minutes or so and turn off the heat. Allow the rice to steep and finish cooking on its own. Fluff gently just before serving.