From the Wonderwell Kitchen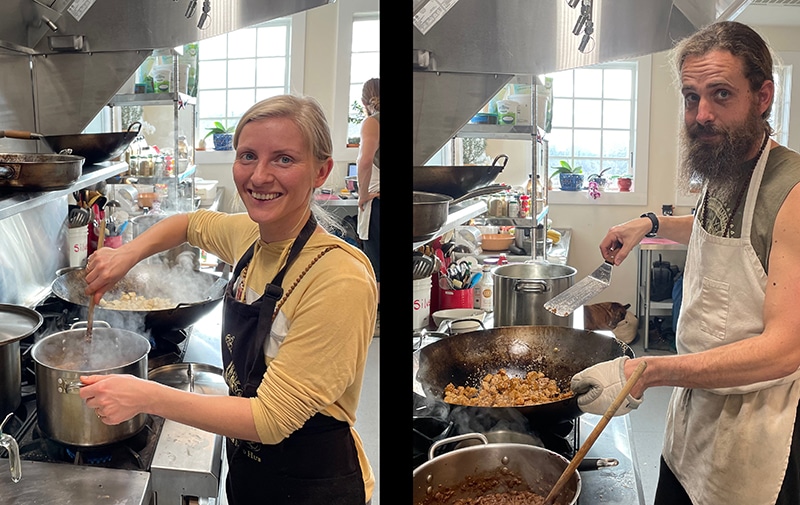 By Peter Blank
Having received many requests, and in the interest of providing the sangha with nutritious and tasty vegetarian food, Natalia and I decided to share monthly recipes with you all. It might be easy to tell that we've been dragging our heels a bit. It's hard to sit down and type when the sun is in the sky and the garden is fresh and beautiful, but we thought some recipes here would be easier than a whole cookbook, and we might just catch the bug after a few, and who knows? We hope you will enjoy them and celebrate the wonderful, creative dharma practice that the kitchen can offer.
This month, we are sharing standby of ours: falafel with tzatziki, muhamarra, and Moroccan-inspired quinoa… and flourless chocolate cake for dessert!
*A note: we try to use as many organic ingredients as possible, for our bodies but also for the soil the food is grown in.
Falafel with Tzatziki, Muhamarra, and Moroccan-inspired Quinoa… and Flourless Chocolate Cake
This meal will serve about 4-6 people.
Falafel
Ingredients
:
2 14 oz. cans of chickpeas (or 1 cup dry chickpeas, soaked overnight in warm water with 2 tbsps vinegar)
1 bunch parsley
1 head of garlic
2 medium onions (red or yellow)
1/2 cup gluten free flour (we use Bob's Red Mill GF Flour because it's primarily chickpea flour, which makes everything taste like chickpeas)
1/2 cup extra virgin olive oil
1 tbsp fresh oregano leaves
1 tbsp fresh thyme leaves
1 tsp black pepper
Salt to taste (about a 1 tsp is a good starting place)
Directions
:
If using canned chickpeas, open, rinse and drain in a colander. If using soaked chickpeas, drain, rinse and place on a stove top with fresh water and boil until soft (1/2–1 hour typically). The more thoroughly cooked they are, the easier they are to digest. If they give you digestive trouble, try boiling them with Japanese wakame seaweed. It neutralizes the phytic acid; same as vinegar). Preheat oven to 400ºF. Place parsley, garlic, onions (roughly chop first), olive oil, oregano and thyme into a food processor. Blend until you have a pleasant green mess. If you don't have a food processor, mince all the ingredients very finely and add them to the oil. Pour into a bowl. Put the chickpeas into the food processor and roughly chop for a few seconds. You don't want a slurry, but they need to be somewhat smashed. Alternatively, use a pestle or some blunt, heavy object to crush about two thirds of them. Add to the oil and herbs, and then mix the whole thing. Add the GF flour, salt and pepper, then mix well. You should have dough the consistency of mashed potatoes. If not, add more oil or more flour. Use an ice cream scoop to portion out falafel patties onto a well oiled baking sheet, press down gently, then place in the oven at 400ºF. Cook the falafel until just turning golden brown, about 15-20 minutes, then flip and cook for another 10 minutes. They should be crispy but not burnt. Remove from oven and allow to cool for a few minutes before serving.
Muhammara
*A Note: Muhammara is a Syrian/Lebanese dip, typically served with pita bread. It has deep, warm, earthy flavor from the roasted walnuts, wonderful smokiness from the red peppers and paprika, and delightful tang and sweetness from pomegranate molasses. It's quite possible that some sort of higher dimensional being or extraterrestrial brought this recipe to humans, as it is almost impossible to believe how good it tastes. Decide for yourself.
Ingredients:
2 cups raw walnuts
1 cup bread crumbs
1 16 oz jar of roasted red peppers, drained
4 tbsp extra virgin olive oil
1/2 tsp red pepper flakes (omit if you don't like spicy food)
2 tbsp tahini
3 tsp lemon juice
1/2 to 1 tsp smoked paprika
4-5 tbsp pomegranate molasses*
Salt to taste
Directions:
Preheat the oven to 350ºF. Place the walnuts on a baking sheet and bake for 10-15 minutes. Your nose is your best friend in the kitchen, so use it to let you know when they are done, but before they burn. Walnuts give off one of the most amazing aromas when toasted. Remove and allow to cool.  Next, drain the red peppers (you can roast your own if you're a real stickler for ingredients, just use 5–6 fresh red peppers and char over a gas burner or charcoal grill, then peel and remove the pith and seeds). Put the walnuts in a food processor and blend to a fine meal. Add the red peppers, bread crumbs, and the rest of the ingredients to the processor and blend again until a thick, reddish paste has formed. Scoop while still warm into a bowl and serve with warm pita bread. Prepare to be transported!
*If you cannot find pomegranate molasses, don't despair. Just buy a bottle of POM pomegranate juice at the grocery store, and pour it into a large frying pan (don't use caste iron, it will flavor the juice). Boil down for 10-15 minutes until the bubbles become small and juice runs thickly at the edges. If you over boil and end up with paste, just add more water and stir to get the desired consistency. Allow to cool.
Tzatziki
Ingredients:
1 cup Greek yogurt or non-dairy yogurt substitute (try CocoJune if you can find it!)
1/2 English cucumber or 2 small cucumbers
1 lemon
4–5 tbsps of fresh dill
Salt and pepper to taste
Directions:
Chop the cucumber. It is up to you how large or small you'd like the pieces. Generally the flavor improves if they're smaller, but the texture is better if they're larger. Squeeze the lemon and set aside. Chop the dill as fine as possible and add to the yogurt along with the cucumber. Add the lemon in little by little, tasting as you go. Everyone prefers different levels of tartness, and not all lemons are created equal, so just experiment. Once the tartness level is where you want it, add some salt and pepper to taste. Serve chilled.
Moroccan-Inspired Quinoa
Moroccan rice is a wonder. A blend of healthy, vitalizing spices, delicious toasted nuts and sweet apricots, it's almost a meal unto itself. In this recipe, we substituted quinoa for rice because it's healthier, more flavorful, and offers a break from the ubiquitous white rice. This dish is somewhat different from Greek or other Eastern Mediterranean food, but it pares well with them. We love it with muhammara to balance the savory falafel and tzatziki.
Ingredients:
1 cup uncooked quinoa, rinsed well
2 cups cold tap water
1 tbsp neutral oil (safflower is good)
1/2 cup chopped apricots
1/2 cup slivered almonds, or medium chopped whole almonds
1 bunch (roughly a fist full) of chopped parsley
7–8 scallions
1/2 tsp of saffron threads (saffron is delicious, but it's expensive. Just omit if you don't want to spend that much money on pollen stems)
1/2 tsp turmeric
1/2 tsp cinnamon
1 pinch of cardamom
1/2 tsp of cumin seeds
Salt to taste
Directions:
First, gently toast the almonds until they produce a pleasant, warm aroma. A dry cast iron pan on medium/low heat is best. When toasting nuts or seeds, your nose is your best friend. Human beings have woefully underused noses! Next, heat the oil in a sauce pan until it shimmers. Toss in the cumin seeds and let them cook until the first few pop, then add the quinoa and stir until fully coated in oil. Add the water and cover on high heat until boiling, then reduce to a simmer. Chop the scallions, making sure to separate the white from green parts. Once the quinoa is fully cooked, gently sauté the white scallion parts until somewhat translucent, and add to the pot. Stir in the spices, almonds, the green scallion bits, and salt, then add the apricots and let it rest for 10 minutes. Stir one last time to distribute flavors and serve.
Flourless Chocolate Cake
This recipe comes straight from the King Arthur Flour Company website, and although it has no flour at all, it's incredible. It's our go-to for birthdays for anyone who even admires chocolate in passing. Like the Tao Te Ching says of Sages, it is "Dark, wondrous, profound." The frosting recipe at the end was a last minute creation of our own when we had no more chocolate chips to make the ganache for the topping. Feel free to use either one.
Ingredients:
1 cup (170g) semisweet chocolate chips or bittersweet chocolate chips
8 tablespoons (113g) unsalted butter, vegan butter or coconut oil, room temperature
3/4 cup (149g) coconut sugar or 1/2 cup maple syrup
1/4 teaspoon salt
1 to 2 teaspoons espresso powder, optional
1 teaspoon King Arthur Pure Vanilla Extract, optional
3 large eggs
1/2 cup (43g) Dutch-process cocoa
Glaze:
1 cup (170g) semisweet chocolate chips or bittersweet chocolate chips
1/2 cup (113g) heavy cream (use Vegan creamer or coconut cream for a dairy free cake
Alternative frosting ingredients
1 whole stick of cream cheese or vegan cream cheese
1 small jar of raspberry jam
A dash of powdered sugar if you'd like it sweeter
Directions:
To make the cake: Put the chocolate and butter in a microwave-safe bowl, and heat until the butter is melted and the chips are soft. Stir until the chips melt, reheating briefly if necessary. You can also do this over a burner set at very low heat. Transfer the melted chocolate/butter to a mixing bowl. Stir in the sugar, salt, espresso powder, and vanilla. Espresso enhances chocolate's flavor much as vanilla does; using 1 teaspoon will simply enhance the flavor, while 2 teaspoons will lend a hint of mocha to the cake. Add the eggs, beating briefly until smooth. Add the cocoa powder, and mix just to combine.Spoon the batter into the prepared pan.
Bake the cake for 25 minutes; the top will have formed a thin crust, and it should register at least 200°F on an instant-read thermometer inserted into its center. Remove it from the oven, and cool it in the pan for 5 minutes.
Loosen the edges of the pan with a table knife or nylon spreader, and turn it out onto a serving plate. The top will now be on the bottom; that's fine. Also, the edges will crumble a bit, which is also fine. Allow the cake to cool completely before glazing.
To make the glaze: Place the chocolate in a heatproof bowl. Heat the cream until it's not quite at a simmer, but showing fine bubbles around the edge. Pour the cream over the chocolate, stir very briefly to combine, and let rest for 5 minutes. Stir again—at first slowly, then more vigorously—until the chocolate is completely melted and the glaze is smooth. If any bits of chocolate remain, reheat briefly in the microwave or over a burner, then stir until smooth.
Spoon the glaze over the cake, spreading it to drip over the sides a bit. Allow the glaze to set for several hours before serving the cake.
Alternative frosting:
Whip the jam and cream cheese together and add powdered sugar up to your desired level of sweetness. We avoid too much sugar, but not enough is pointless! It's good to find your own balance.