From the Kitchen: Persian New Year Dishes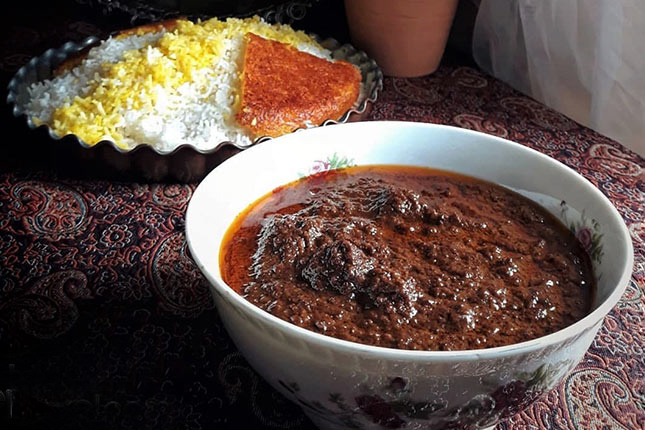 Iranian cuisine is often overlooked, but like a lot of Middle Eastern food, it is fantastic and frequently vegetarian or easily made so. Though our scope is limited, we hope to broaden it, as we have found Iran's food to be very unique in it's use of savory and sweet together, as well as warming and delicious spices. This recipe comes directly from www.minimalistbaker.com, a website we regularly use for simple and delicious vegan ideas. Fesenjan is a dish traditionally made with poultry for the Persian New Year, when the pomegranates are ripened. Some have claimed it dates to the Sassanid Empire, an old foe of the Roman Empire, who kept Roman influence from spreading further east into Turkey. Regardless, it's flavors have been honed over the centuries into something remarkable. We love it on a fall evening, with warm flat bread, yellow rice, and watermelon and pistachio salad.
Lentil Fesenjan  •  Yellow Rice  •  Watermelon, Cucumber & Pistachio Salad
Fesenjan (Persian Pomegranate Chicken)
Ingredients:
*Note: the only uncommon item in this recipe is pomegranate syrup, but don't worry. If you can't find it in your grocery store (our local Hannaford's has it in the "ethnic foods" isle), you can easily make it with a bottle of POM pomegranate juice. Take a large frying pan (but don't use your nice seasoned cast iron, as the acid in the juice will dissolve all your hard work to make your pan non stick!) and pour the juice into it. Bring it to a boil, then let it simmer. Watch the bubbles as it's boiling down. The smaller they get, the thicker the syrup will be. If it becomes too thick, it will become candied when it cools and be very difficult to use, so don't go too far. If you do go too far, however, just add a teaspoon at a time of water and stir on low heat until the syrup thins a bit. Once the bubbles are about half the size they were originally, turn the heat off and let it cool. Check with a spoon once it's cool enough. If you pour it back into the pan and it "layers" when poured, you've got syrup.
1 cup raw walnuts

2-4 tbsp pomegranate syrup

4 tbsp olive oil

1 large yellow onion, finely chopped

1/4 tsp each sea salt and black pepper (plus more to taste)

2 ½ cups vegetable broth

1 cup rinsed uncooked brown or green lentils

1-2 tbsp maple syrup

1/2 tsp ground turmeric (plus more to taste)

1/2 tsp ground cinnamon (plus more to taste)
Directions:
Spread the walnuts flat on a baking sheet. Preheat the oven to 350ºF and bake for 10 minutes.

Heat a medium sauce pan and sauté the onions in the olive oil until translucent. Add the lentils and vegetable broth and leave to simmer for about 30 minutes.

Once the walnuts are done roasting, let them cool for a few minutes then place them in a food processor. Blend until they have formed a meal, but don't go too far. 

When the lentils are soft, add the walnut meal and pomegranate syrup. 

Cook for another 5 minutes, then turn off the heat. Add the maple syrup, turmeric, cinnamon, salt, and pepper. Feel free to balance the flavors how you like them, but moderation is the key. You can always add more, but you can't take things away once they are added. 
Persian Yellow Rice
*Note: You can easily substitute turmeric powder for saffron if you'd rather not spend the money. A little saffron goes a long way, and it does have a wonderful taste, but turmeric is currently considered one of the healthiest foods out there, with a long history that stretches back millennia in India. So, no need to feel too awful.
Ingredients:
2 cups of boiling water

2 tbsp vegan butter

1 cup basmati rice

1 tsp salt

1 pinch of saffron threads or 1/4 tsp turmeric
Directions:
Sauté the rice in a medium sauce pan with the butter for about 2 minutes. 

Add the water, salt and the saffron or turmeric. 

Bring to a boil, then reduce heat to a simmer and leave with the cover on for about 10 minutes, until the water has disappeared below the level of the rice.

Turn the heat off and allow to set for another 10 minutes. Fluff gently before serving.
Watermelon, Cucumber & Pistachio Salad
*Note: Don't add the pistachios until the last possible minute, and don't hold out much hope that this salad will last long in the fridge. The watermelon and cucumbers will quickly turn the pistachios to mush, so eat it fresh!
Ingredients:
1 quarter watermelon

4 – 5 small cucumbers

1 1/2 cups toasted, salted pistachios
Dressing:
1/3 cup lemon juice

1/2 cup olive oil

1 tsp salt
Directions:
Use a melon baller or a small ice cream scoop to scoop the watermelon into a bowl.

Chop the cucumbers and add them.

Drain the watermelon juice after about five minutes into a cup, and drink up! Why watermelon juice isn't available is mind boggling; it's delicious!

Mix the dressing and add it to the salad.

When you are ready to serve, toss the pistachios into the salad.
Enjoy!