New Book Discussion Group: Braiding Sweetgrass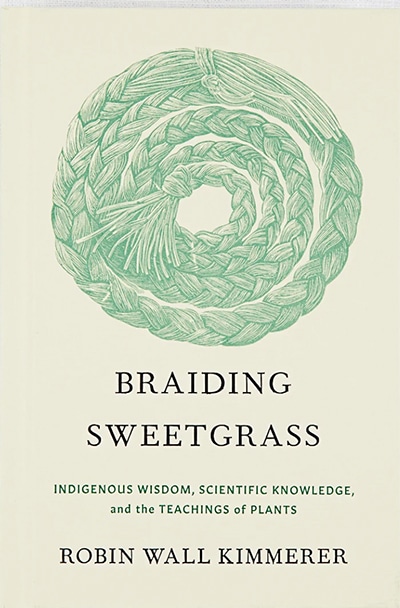 Following the Green Dharma retreat last month, NDF's Inclusion and Equity Committee (IEC) is happy to announce a book discussion group  focused on exploring the Dharmic view of nature, our inter-relationship with nature and how that view impacts and informs our Bodhisattva vows in daily life. This topic was selected based on the overwhelming majority of responses to an Affinity Group interest survey IEC conducted earlier this year, and it dovetails with the theme of this year's Dharma Dialogues series: Ecosattvas in the Anthropocene.
This discussion group will read and gather virtually to discuss "Braiding Sweetgrass." The subtitle of this book is "Indigenous Wisdom, Scientific Knowledge, and the Teachings of Plants." Indeed, this is what lies between the book's covers—yet it doesn't tell readers what an extraordinary journey they will have, chapter by chapter, as they hear the messages in this book and the beauty of its writing. As a botanist, professor, writer, and member of the Citizen Potawatomi Nation, the author, Robin Wall Kimmerer, has gifted us with her hands-on experience exploring the natural world with the insight and teachings of her indigenous lineage and professional career. Sensing the grace and wonder in the writing of each section, we come away with a new appreciation of "reciprocity" in nature and a desire to honor and protect the bounty of beauty and wisdom our planet offers.
Beginning in October, IEC will facilitate  a monthly series of six sessions on Zoom: one for each of the five sections of the book and a final meeting for integration. We will select the specific day and time based on participants' availability. 
Fill out
THIS SHORT FORM
to indicate your interest in participating and/or co-facilitating, as well as your preferred meeting times.