Arline Saturdayborn – Long-Time Sangha Member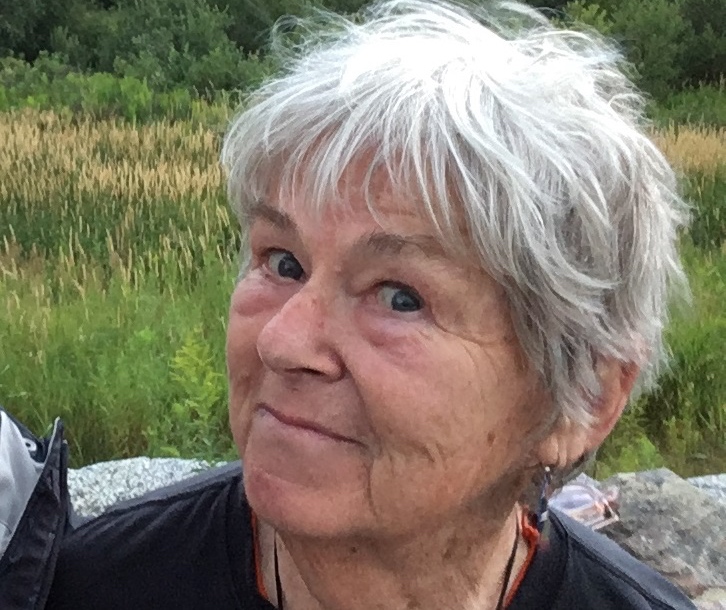 NDF Obituary
Arline Saturdayborn, a long-time sangha member of NDF, a meditation teacher with the Foundation for Active Compassion and Lama John Makransky, and practice leader with the Natural Meditation Practice Group in Portland, Maine, died on February 7th, 2023, from complications of Covid-19 pneumonia. Brilliant to the end in her deep dedication to compassion practices, she taught her University of Southern Maine students in her last days from her hospital bed.
From the first moment she encountered the Buddhist teachings on compassion, she had a deep comprehension of their meaning, and lived and shared them with passion, love, and abiding care. Disseminating and embodying these practices became her last, best chapter.
She was a very dedicated and dynamic practice leader and teacher who captured the interest and hearts of everyone and was a much-loved part of the weekly meetings of her home Portland sangha. She always brought something new and entertaining to her practice groups and led meditations that were profound and beautiful.
Her fellow FAC teachers knew her as wholeheartedly dedicated to her practice, kind to everyone, unfailingly unmasked in her own practice, and always, always, ALWAYS joyful!
Lama Liz recalls: "My main memories of Arline are her vivid presence and enthusiastic inquisitiveness when she came to retreats at Wonderwell. I always loved to try to answer her questions because they were so insightful and so clearly indicative of her deep love for others and her care to try to bring as much skill, wisdom and care to her own teaching as she could. Arline was never still, never complacent, but continuously seeking to grow, mature, and awaken to her essence more and more fully. This came through in her vibrant energy and her contagious laughter and love. I will miss her shining presence, but hold her close in my heart!"
She is greatly missed, but her spirit stays with us, inspiring us.
Bardo Practice
Friends of Arline have organized a traditional 49-day practice session online for Arline.  Practice will run at various days and times through March 28, 2023.  Please see the schedule and prayer template below to use during the Bardo practice.  The Zoom link is also provided in these materials.
You may find out more about NDFs Practice Groups on our website.
Thank you to Dawn-Starr Crowther and Judy Shepps Battle for preparing this tribute to Arline. 
---
Obituary from family:
SOUTH PORTLAND – Arline Saturdayborn spent her final trip around the sun teaching and traveling – to France, Croatia, Italy, Greece, Albania, and Brazil. On her 81st birthday, she went swimming in the Amazon, only two years after having been diagnosed with non-Hodgkin's Lymphoma. She died at Northern Light Mercy Hospital from complications of COVID pneumonia on February 7, 2023, yet she was fully alive until the end; teaching her University of Southern Maine course from her hospital bed, and volunteering to be an Ambassador of Compassion for Stanford University's Applied Compassion Training program.
Her final words before going on a ventilator were, "Let's go!"
Teaching, learning, and facing her fears head-on was Arline's life work. In the early 1990s, she taught yoga and meditation to people who didn't think either was for them. She called it "Yoga For Ordinary People and Everyday Life" and taught packed classes around Greater Portland. Her teaching evolved into English to Speakers of Other Languages (ESOL) instruction at Portland Adult Education, where she greeted her beloved students with "HELLO, SWEETHEART!" and always kept a bouquet of fresh flowers in her classroom. Arline defied her fears of being too old to go back to school and earned a master's degree in teaching ESOL. She often said that ESOL teaching was one of the best things that ever happened to her, and she wanted her class to be one of the best things that ever happened to her students. Her teaching practice evolved into Sustainable Compassion Training, which she turned into a popular course that she taught at USM until days before she died.
Arline brought both a radiance and compassion to each room she entered. "The way you say good morning to me makes me feel like I matter," one friend said of her. Several said they could share challenges with her they couldn't share with anyone else. And she gave the best hugs, many said of her.
A relentless adventurer who defied stereotypes of age and aging, Arline biked around Thailand at 70 and started doing CrossFit twice a week at the age of 75. After her cancer diagnosis at 78, she threw herself deeper into her Sustainable Compassion course at USM, teaching through multiple rounds of ever-more intense cancer treatments and planning multiple post-treatment trips. When her oldest son, Bill, died by suicide after a long struggle with mental illness, Arline used the pain of his death to expand her compassion work to support survivors of suicide loss.
Arline Mary Hagan was born in Boston, Massachusetts on December 20, 1941, to William M. Hagan and Arline (McCarthy) Hagan. After graduating from St. Mary's College in South Bend, Indiana, Arline worked as the governess for Attorney General Robert F. Kennedy's children, met her husband Jamie Whelan, earned a master's degree in education from Harvard University, and had three sons and one daughter over the ensuing 18 years.
Inspired by the "Back to the Land" movement of the 1970s, Arline and Jamie moved their growing family from Englewood, New Jersey to Pembroke, Maine where they lived intentionally without the benefit of electricity and running water in a 16×16 cabin as they built their own house. They relocated to South Portland in the early 1980s, where Arline earned a second bachelor's degree from the Portland School of Art, learning alongside students two decades her junior. She went on to change her last name to Saturdayborn, inspired by communities where one was kin with people born on the same day of the week.
Arline is survived by her husband Jamie Whelan; children Bob, David, and Caitlin;  daughters-in-law Annie and Sarah, grandchildren Chloe, Ben, Zane, and Faze; and sister Kathleen Hagan.
While in the hospital, Arline said, If I die, tell everyone this was a real nice clambake and I'm mighty glad I came.