Presentation by Megan Carnarius on The Early History of Wonderwell
On November 9, 2022, Natural Dharma Fellowship, in partnership with the Springfield Historical Society, welcomed Megan Carnarius as well as local residents who were interested in learning more about the history of Wonderwell. Megan is the great-granddaughter of the original family that built Wonderwell. This much-loved home has a long history in Springfield. Built in 1911 by Nell and Joe Stoddard, Wonderwell was a summer home for the Stoddards and hosted their relatives and friends in the early 1900's.
During her childhood, Megan listened to the stories of her elders and shared these recollections of summers past, bringing the people of Wonderwell to life. Of great importance to the Stoddards was providing a gathering space for people to share the arts such as music and poetry. Nell Stoddard was an accomplished pianist who would often play for guests in the large hall. Fortunately, Megan had access to many personal items that had been preserved, as well as a wealth of photographs that allowed a peek into the world of the family during their time in Springfield. These pictures gave the audience a clear timeline of the evolution of Wonderwell, as well as a glimpse of the original furniture, grounds and personal items such as clothing and dishes. Throughout her talk Megan would often say she felt the presence of her family guiding her in how best to tell their story.
Onsite attendees were offered tours of Wonderwell prior to Megan's  talk. This video about the Wonderwell building, past and present, was produced for and shown to those who attended the event live via Zoom.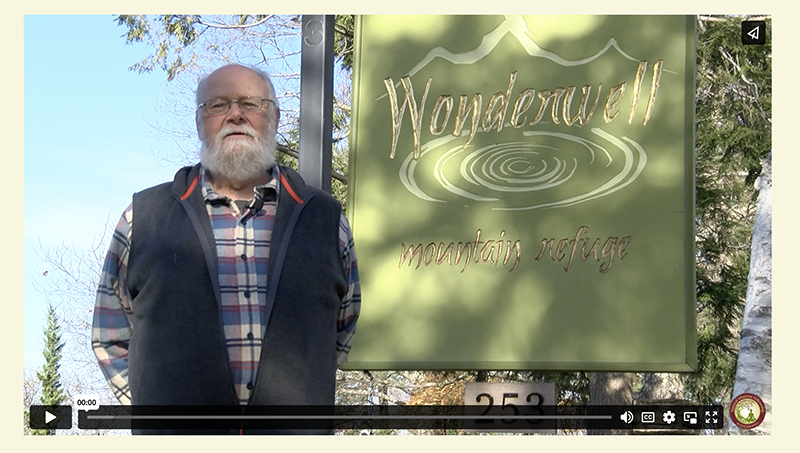 We are all grateful to Megan for sharing her family with us and telling the story of how Wonderwell came to be the special place that it is today.
Written by Kathy Costa, Wonderwell Office Manager