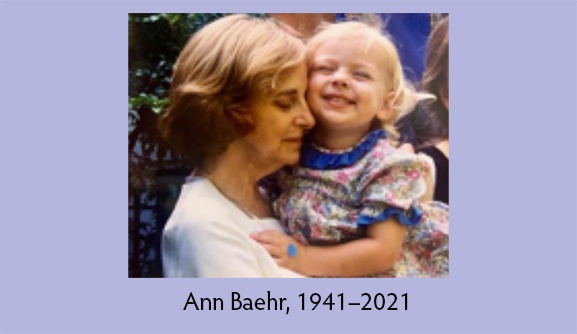 Our dear dharma sister Annie Baehr, beloved wife of NDF Teacher Joel Baehr, recently passed away. She was involved with the Foundation for Active Compassion and Natural Dharma Fellowship sanghas. Her life was led with kindness and compassion. She will be missed by all.
Ann Baehr Obituary
On Sunday, July 18, Ann Baehr, loving wife and mother and gentle soul, died suddenly at the
age of 80.
Ann was born June 27, 1941 in Columbus, Ohio to Lillian (Hossinger) Witman and Gene Dewald
Witman. She was raised in Mt. Lebanon, Pa., where she graduated from high school as a
National Merit Scholar. There she was remembered by her fellow students as the voice of the
morning announcements. She continued her schooling at Bryn Mawr College, where she
graduated cum laude majoring in music. There she met a Haverford College student, Joel Baehr.
A romance blossomed as they held hands singing in the Tri-College Chorus with the
Philadelphia Orchestra under the direction of Eugene Ormandy. They married on December 29,
1962 and raised two daughters: Rebecca Hunter Baehr and Amy Ruth Baehr. Joel, Becky and
Amy survive her.
Ann continued her education with a Master's Degree from Wheelock College. She had a long
career as an administrator, working most recently as the Assistant to the Vice President at
Berklee College of Music in Boston, MA. Her Berklee colleagues remember Ann as joy to work
with, a warm colleague who was responsive and diplomatic in handling challenging situations.
She was important contributor to the success of the college at that time, and she received
several awards for her work.
Ann had a life-long passion for choral music and musical theater. She sang in the Mount
Lebanon Triple Trio, Bryn Mawr Chorus, Rochester Choral Society, Greenwich Choral Society,
and Back Bay Choral, including much solo work as a soprano. At Bryn Mawr, she sang the role of
Belinda in "Dido and Aeneas." She sang and acted in several theater productions in Stamford,
CT including "The Sound of Music" and "She Stoops to Conquer." Her family fondly recalls her
breaking into a pitch-perfect rendition of "How Do You Solve a Problem Like Maria" while
performing mundane domestic chores.
Ann struggled with depression at times in her life. She met this profound challenge to her
happiness with therapy, medication and fervent spirituality. She practiced Buddhism for
decades and cultivated an active practice of meditation that augmented her natural inclination
to care for people and the world. She practiced with her Sangha, where she found a spiritual
home.
Ann was devoted to the cats in her life and spent many hours lovingly tending to her garden.
She was an ardent Red Sox fan and had her own nicknames for favorite players. She loved
elephants—a lot—and decorated her spaces with them everywhere she lived. Ann spent her
last years caring selflessly and tirelessly for her beloved husband Joel, who suffers from
advanced Parkinson's Disease. Her care enabled them to remain in their home in Cambridge,
MA.
Ann had an extraordinary capacity for generosity. She regularly bestowed small, thoughtful gifts
on all who surrounded her – to the delight of her four grandchildren: Sarah Schrading, Lilah
Schrading, Karl Basile-Baehr and Vera Basile-Baehr. The family gathered for her 80th birthday
on June 27, and true to form, she presented gifts to everyone. Her charitable works and
contributions are too numerous to detail here. Big-hearted to the end, she knitted and gifted a
blanket to a newborn neighbor a few days before she died.
In lieu of flowers, the family asks that you bestow gifts in Ann's memory to Cambridge
Neighbors (cambridgeneighbors.org), on whose board she served until her death,
and/or Natural Dharma Fellowship (CLICK HERE). A memorial gathering will
be held soon and will be announced as soon as details are available.
~~~~
You may leave a condolence here: bostoncremation.org/obituary/ann-baehr