Practice in the Face of Russia's Invasion of Ukraine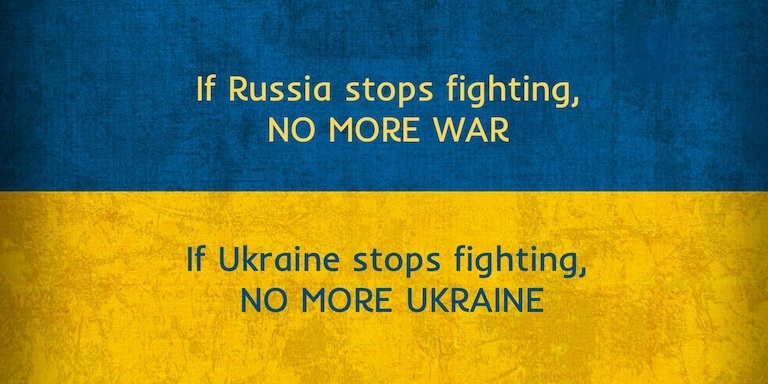 Dear NDF Sangha,
Warm greetings to all of you. It is with great sadness and concern that I write to share some thoughts around how we might practice in the face of Russia's invasion of Ukraine. It is hard to fathom how this can be happening on the heels of the past few years, with the pandemic and the increasing episodes of climate disruption already stirring up our emotions and feelings. This time, which I have described as the degenerate age, will ask us to face more and more often into the events that challenge us to bring our practice and our hearts into the foreground of our lives.
It is extremely important to remember that each and every one of us has the capacity to face these struggles, to hold them in compassionate care, and to reach beyond our self-focus to include others in our fields of love and wisdom. Let us particularly extend our energies and our loving-kindness to everyone who is at the mercy of the escalation of aggression and violence taking place in Ukraine. May we remember to also hold the aggressors in compassion, recognizing that a profound degree of confusion is operative on many levels of our existence during these times.
Practices that would be most beneficial now are:
Tonglen Practice – Bringing in the suffering of the Ukrainian people and sending out whatever healing and protection from fear we can muster.
Compassionate Presence to Feelings – Holding our own reactivity, fear, and grief in an arena of love and acceptance
Open Awareness Practice

– Relaxing any tension or grasping into the vast openness of our innate nature, the space from which our natural capacity for extending care is already always flowing. 
Remember that what is going to be most sustaining now and in the days to come, is our strength, resilience, and interconnectedness with each other – our current and emerging communities of care. Being with others in love and protection can provide us with the gentle encouragement we need to keep working in order to alleviate the suffering of all beings, human and non-human alike.
Deepest love and blessing to you all!
Love,
Lama Liz
Lama Elizabeth Monson
Spiritual Co-Director of Natural Dharma Fellowship
Managing Teacher at Wonderwell Mountain Refuge
---