New books by Lama Willa and by Lama Liz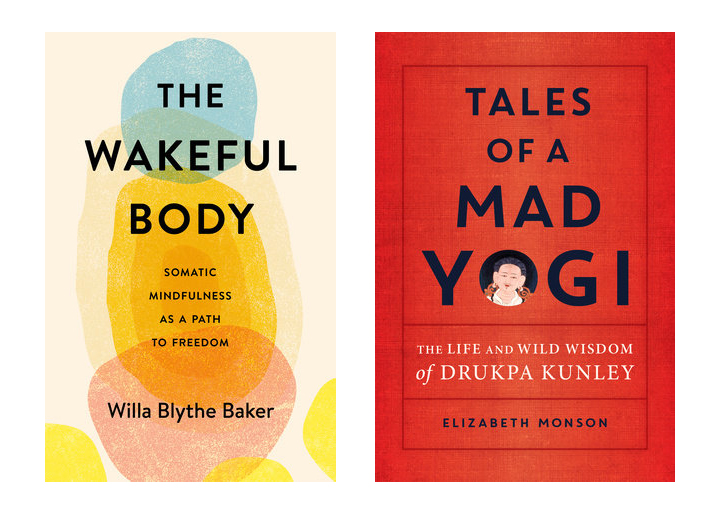 Pre-orders are now available for soon-to-be-published books!
Congratulations to both of our beloved Lamas on these enormous accomplishments. We are so looking forward to the book releases and exploring these very different but equally fascinating topics.
Publication date: August 24, 2021
by Elizabeth Monson
A fascinating biography of Drukpa Kunley, a Tibetan Buddhist master and crazy yogi
Paperback | $19.95  |  Published by Snow Lion  |  240 pages
The fifteenth-century Himalayan saint Drukpa Kunley is a beloved figure throughout Tibet, Bhutan, and Nepal, known both for his profound mastery of Buddhist practice as well as his highly unconventional and often humorous behavior. Ever the proverbial trickster and "crazy wisdom" yogi, his outward appearance and conduct of carousing, philandering, and breaking social norms is understood to be a means to rouse ordinary people out of habitual ways of thinking and lead them toward spiritual awakening.
Elizabeth Monson has spent decades traveling throughout the Himalayas, retracing Drukpa Kunley's steps and translating his works. In this creative telling, direct translations of his teachings are woven into a life story based on historical accounts, autobiographical sketches, folktales, and first-hand ethnographic research. The result, with flourishes of magical encounters and references to his superhuman capacities, is a poignant narrative of Kunley's life, revealing to the reader the quintessential example of the capacity of Buddhism to skillfully bring people to liberation.
Publication date: November 23, 2021
by Willa Blythe Baker
A highly practical and approachable guide to somatic meditation with easy practices for accessing the body's inherent mindfulness, from an expert in somatic meditation
Paperback | $17.95  |  Published by Shambhala  |  176 pages
In The Wakeful Body, author Willa Blythe Baker offers down-to-earth practices such as "Surrendering to the Breath" and "Befriending Feelings" to help readers tap into the wisdom of the body, where the body becomes the source of mindfulness. The Wakeful Body introduces meditation practice as the cultivation of a way of being, rather than a way of doing. It is a way of being that is self-aware, self-compassionate, and embodied. This way of being is not limited to practice on the cushion or on the yoga mat–somatic mindfulness is available at any moment, activated by attention to the body's wisdom and its teachings.\
Discover the three layers of embodiment, from the earth body of flesh and blood, the subtle body of sensory experience and emotion, and the awareness body of consciousness. The three parts of this book explore these layers through turning attention to the physical, energetic, and mental dimensions of human experience. By diving deep into the body, readers will find that they already have what they need. Concentration, wisdom, compassion, kindness, and joy are waiting there.