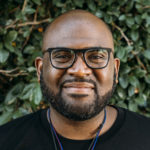 Lama Rod Owens (Mdiv) is an author, activist, and authorized Lama (Buddhist Teacher) in the Kagyu School of Tibetan Buddhism. Lama Rod is the co-founder of Bhumisparsha, a Buddhist tantric practice and study community. Lama Rod is also a teacher with the Daishin Zen Buddhist Temple, the Urban Yoga Foundation, Inward Bound Mindfulness Education (iBme), a visiting teacher with Natural Dharma Fellowship and the Brooklyn Zen Center.
Lama Rod has been a faculty member for the Harvard Graduate School of Education's professional education program in mindfulness for educators and has served as a guest faculty member for the school's course Mindfulness for Educators. He holds a Master of Divinity degree in Buddhist Studies from Harvard Divinity School where he focused on the intersection of social change, identity, and spiritual practice. He is a co-author of Radical Dharma, Talking Race, Love, and Liberation, which explores race in the context of American Buddhist communities. Lama Rod is a founding teacher for the Awaken meditation app that offers meditations and contemplations focused on social change. He has been published and featured in several publications including Buddhadharma, Lion's Roar, Tricycle, The Harvard Divinity Bulletin, Spirit Magazine, and contributed the chapter on working with anger for the recent publication Real World Mindfulness for Beginners.
He is a regular guest on SiriusXM's Urban View hosted by Pulitzer Prize winning journalist and publisher Karen Hunter. He has offered talks, retreats, and workshops for many organizations and universities including New York University, Yale University, Harvard University, Harvard Law School, Columbia Law School, Tufts University, University of Vermont, and Boston College. Lama Rod facilitates undoing patriarchy workshops for male identified practitioners in Brooklyn and Boston. His current writing projects include patriarchy in spiritual communities, White supremacy in Tibetan Buddhist communities, sexuality and ethics, as well as fatness and spirituality. Lama Rod's next book will explore transformative anger and love and is due out June 2019. Lama Rod can be reached at lamarod.com.