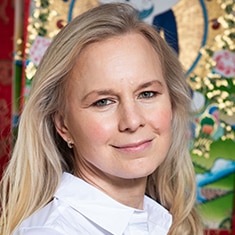 Lama, Managing Teacher, Spiritual Co-Director
Elizabeth Monson, PhD, is the Spiritual Co-Director of Natural Dharma Fellowship and the Managing Teacher at Wonderwell Mountain Refuge. Liz was authorized as a dharma teacher and lineage holder in the Kagyu Lineage of Tibetan Buddhism and has been studying, practicing and teaching Tibetan Buddhism in the Kagyu and Nyingma lineages for over thirty years.
She has studied with Pema Chodron, Tulku Orgyen Rinpoche, Chokyi Nyima Rinpoche, Khenpo Tsultrim Gyamtso Rinpoche, Gyalse Tendzin Rabgye and others.
Some of Liz's teaching interests include:
accessing the powerful awakened energies and open awareness expressed through the natural world
providing tools for how to become free in everyday life
transmitting lineage teachings
responding to contemporary social and spiritual issues as a path for liberation.
Liz also focuses her teaching on developing practical methods for incorporating the Buddhist teachings into this human life through the practices of kindness and compassion and on recognizing the natural state in every moment of our lives.
These days she derives inspiration from the teachings of Anam Thupten, Mingyur Rinpoche, and Tsoknyi Rinpoche.
Liz holds a PhD in the Study of Religion from Harvard University with foci in Buddhist Studies, Tibetan Buddhism, and ethics. Her research interests include the ways in which Himalayan Buddhist biographical, autobiographical, narrative, poetic, and meditative literature work to provide a space for meditation on what it means to live a good human life.
Liz has lectured at the Harvard Divinity School and is the co-translator of More Than a Madman: The Divine Words of Drukpa Kunley (2014), a translation of the autobiography of mad yogi, Drukpa Kunley.
She has recently written a biography on the life of Drukpa Kunley, forthcoming from Shambhala Publications in 2021, and is currently working on a book on Tantra, also for Shambhala Publications.
Upcoming Event with This Teacher