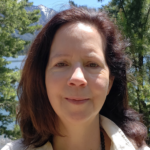 Dharma Teacher, Margha Program Director, Mitra
Camille Hykes has been training in the Nyingma and Kagyu traditions of Tibetan Buddhism since 1995, with an emphasis on Dzogchen and Mahamudra. Intensive solitary and group retreats, including 100-day retreats, have helped fuel her practice. Direct experience of the sacred nature of the Earth has been an essential illumining teacher for her throughout her life.
Teachers and sources of inspiration for Camille include: Nyoshul Khenpo, Robert and Rachel Olds, Lama Willa Miller, Leah Chyten, Brendan Kennedy, Chatral Rinpoche, Hameed Ali (A.H. Almaas), Anam Thubten, Charles Genoud, Mingyur Rinpoche, Tsoknyi Rinpoche, Lama John Makransky, Lama Surya Das.
Camille co-directs (with Bob Morrison) Natural Dharma Fellowship's Margha Program, which offers year-long trainings in natural meditation and bodhicitta practices.
Since 2008 Camille has been training in the work of the Diamond Approach, an open-ended path of inquiry into the immediacy of our experience. She is also an authorized teacher of Gesture of Awareness, a unique means of exploring presence through the body. In its own way, the work of Gesture is a kind of dance of inquiry.
Among her special interests, Camille loves to share the songs and stories from the lives of great masters of meditation, not only so that we may ponder their qualities and receive their blessings, but so too that we may inquire into the treasure right at home in the heart of our own life and that of all beings.
Upcoming Event with This Teacher