Tuesday Night Meditation
Kathe McKenna
Live Online: 7:00 pm EST
Guided meditation, a Dharma talk, and time for discussion offered by Natural Dharma Fellowship and Wonderwell Mountain Refuge. Open to everyone—please join us for inspiration, practice, and community.
Due to security issues, we are asking everyone to register through Zoom to access Monday night meditation. When you click the registration link below, it will take you to a registration page where you will need to enter your name and email address. Once you have registered, you will be sent the actual link to the Zoom meeting. It will not be necessary to register each week. You can save the meeting link, since it will be the same moving forward, and use it every week. This can be done by saving the meeting link to your calendar. Please email [email protected] if you have any difficulties.
About the Teachers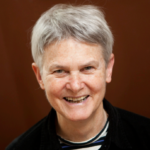 Kathe McKenna
Dharma Teacher, NDF Board President
Kathe was one of the founders of Haley House in 1966 when she and her husband welcomed men who were homeless into their apartment. For the next 42 years, she merged her background in Christian contemplation with service. In the 80s she walked for peace and chanted with the Nipponzan Myohoji monks and nuns. She was introduced to Dzogchen by Sogyal Rinpoche and became a student of Lama Surya Das under whose guidance she went on a 100 day Wisdom retreat. It is Tibetan Buddhism with its practices..