Residential — Brendan Kennedy Retreat
Brendan Kennedy
May 12, 2022

-

May 18, 2022
Residential component of the hybrid retreat.
For the online component, click here.
Sorry! Registration is closed.
Awareness or mind itself is totally perfect and complete, as is stated by Longchenpa. So, if that's the case, how can we become the mind or awareness itself? By simply being the mind or awareness not as any thing whatsoever, it will start to become itself.
At this retreat we will simply be exploring the practices that will prevent the mind from becoming some thing or any thing. The mind being some thing automatically prevents the mind from being itself. That's why we need the practice which prevents the mind or awareness from becoming some thing.
In the practice of Non-Focusing, automatically the mind starts to not be any thing or some thing.
Simply Letting the Mind Be As It Is, it automatically doesn't become some thing or any thing.
When we don't make any thing of the mind, then it doesn't become any thing.
Mind Just Simply Being automatically doesn't become any thing.
These are some of the practices that we're going to get into and see if we can actually experience the mind not as any thing.
SCHEDULE – All times are Eastern Time and are subject to change; please note changes in schedule.
Thursday, May 12
3:00 – 5:00 pm           Check in
5:30 – 6:15 pm           Dinner
7:15 pm                      Orientation and Opening Session with Brendan
Friday, May 13 – Tuesday, May 17
7:15 – 8:00 am           Refuge & Meditation with Practice Leader
8:15  – 8:45 am          Breakfast
10:00 – 11:30 am       Meditation, Teaching & Discussion/Q&A with Brendan
11:50 am – 12:30 pm Group Meditation with Practice Leader
12:45 – 1:30 pm         Lunch
2:30 – 4:000 pm         Meditation, Teaching & Discussion/Q&A with Brendan
4:15 – 4:55  pm          Group Meditation with Practice Leader
5:00 – 6:00 pm           Residential InterViews, Open Time
6:00 – 6:45 pm           Dinner
7:30 – 9:00  pm          Evening Session (SanghaShare)
9:00 pm                      Individual Practice
Wednesday May 18
7:15 – 8;00 am           Refuge Practice with Brendan
8:15 –8:45 am            Breakfast
10:00 am                    Closing Session with Brendan
12:00 am                    Lunch, Clean-up, Depart
You must provide proof of full vaccination against COVID-19 on arrival at Wonderwell. Full vaccination does include a booster shot. We recommend that you take a photo of your vaccination card so that, if you forget to bring the card with you, the image will be on your phone.
If you register for a shared room, you are agreeing that you accept that you may be sharing it with someone you don't know, though unrelated men and women will never be assigned to the same room. If you are not willing to make that agreement, please do not register for a shared room. You may want to consider registering for the commuter option instead. Scroll down on this page for information about nearby accommodations or click on the "More Details" link under the commuter option on the registration form.
If the type of room you require is sold out or no rooms at all are available at Wonderwell, you can email retreats@wonderwellrefuge.org to be placed on a waiting list in case there are cancellations.
A negative COVID-19 test result is required before admittance to the retreat. Please test within 72 hours prior to your expected arrival at Wonderwell, using either a PCR test or a rapid (at-home) test kit. You may take a photo of the results.
Important information about 2022 retreats at Wonderwell: Information about pandemic safety protocols in place can be found on our website. For details about Wonderwell itself, registration procedures, pricing, cancellation policy, and other FAQs, please use this link.
Wonderwell Mountain Refuge strives to offer retreats in a manner that is inclusive for persons of all means. If the full retreat cost would create an undue financial burden, we encourage you to apply for a scholarship. Please visit this page on our website to learn more about financial aid. Depending on the type of work that you do, you may be eligible for a Hemera Contemplative Fellowship. Please click on this link for more information.
Cancellation Policy – Wonderwell charges a $75 cancellation fee for residential (onsite) retreat cancellations more than 4 weeks before the start of a retreat. Any cancellations between 4 weeks to 11 days prior to the program are charged a $150 cancellation fee. For any cancellations 10 or fewer days prior to the start date of the program, no refunds are offered. However, if you are feeling ill or have concerns about exposure to the COVID virus, please cancel your attendance at any Wonderwell retreat even at the last minute. In this case, we will provide a full refund of your payment.
USER ACCOUNTS & RESOURCES
The user account feature of our website provides a secure place where materials from your retreats can be posted and accessed. If you don't have an account already, you'll want to set one up as soon as you register.
Paid resources – retreat recordings and other retreat materials – will only be available in the dashboard of your user account.
If you haven't already created an NDF user account, please visit our website to Create an account as soon as possible.
User accounts are manually synced with the retreat 7–10 days after the retreat. Please be aware that this does not happen automatically with registration. It is a separate, manual operation.
Please visit the Technical FAQ page on our website for useful information about user accounts, helpful tutorials, as well as answers to many other questions. You can contact support@naturaldharma.org with questions about your user account.
Wonderwell Mountain Refuge Full Calendar
About the Teachers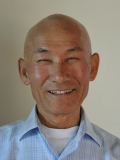 Brendan Kennedy
Visiting Teacher
View Profile