Monday Night Meditation – Holding Pain: Session 1 of 3
Zoe Logan Morris
Live Online: 5:00–6:30 pm ET
Some of the Buddha's most fundamental teachings were on the truth of suffering and the cessation of suffering. The cessation of suffering does not refer to transcendence, or getting rid of, but instead opening into the spacious awareness that allows us to hold all our experiences.
In our lives, our inability to hold pain leads us to blame others for our suffering or to blame ourselves, which in turn, causes further suffering.
In this three-week series, we will contemplate, meditate, and reflect on holding pain.
Guided meditation, a Dharma talk, and time for discussion offered by Natural Dharma Fellowship and Wonderwell Mountain Refuge. Open to everyone—please join us for inspiration, practice, and community.
Due to security issues, we are asking everyone to register through Zoom to access Monday night meditation. When you click the registration link below, it will take you to a registration page where you will need to enter your name and email address. Once you have registered, you will be sent the actual link to the Zoom meeting. It will not be necessary to register each week. You can save the meeting link, since it will be the same moving forward, and use it every week. This can be done by saving the meeting link to your calendar. Please email wwtech@naturaldharma.org if you have any difficulties.
Closed captioning is available on all online retreats.
About the Teachers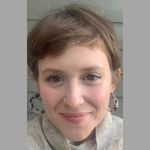 Zoe Logan Morris
Visiting Teacher
View Profile