December Dharma Sunday: Wisdom
Lama Liz Monson
Live Online
We will be using the Zoom platform for this Dharma Sunday. Therefore, we must ask those who wish to participate to register ahead of time so that we can email the Zoom link to you.
The Zoom link will be sent on Friday, Dec. 11 to all those registered by then. Please contact the registrar on Saturday if you haven't received the link. If you register after that date, you'll receive the link shortly after submitting your registration. If you don't see an email from Natural Dharma Registrar or Wonderwell Mountain Refuge, it may have mistakenly been sent to your spam folder. Please check your spam folder and, if you find an email from us, open it and mark it as "Not spam." Then add the email address you see in the From line to your Contacts to ensure our emails land in your inbox.
2020's Dharma Sundays and Open Practice Weekends focus on the Buddhist topic of the Ten Fetters. The Ten Fetters are a description of the psychological, intellectual, and emotional phenomena that tie us to suffering. However, rather than explore these ten elements as "fetters", we will instead explore their opposites – the ways that each of these chains, when recognized and resolved, can lead us to peace, relaxation, and realization of how to live sanely and compassionately with ourselves and others.
Schedule (all times EDT)
10:00 – 10:45 am   Meditation
10:45 – 11:00 am   Break
11:00-12:30 pm      Dharma Sunday Teaching/Service
Wonderwell Mountain Refuge strives to offer retreats in a manner that is non-cost prohibitive and inclusive to persons of all means. If the full retreat cost would create an undue financial burden, we encourage persons to apply for scholarship and work-study. Whether one needs to request aid to defer a large or small portion of the cost of a retreat so as not to incur a financial burden, we strive to accommodate you. This link will take you to information about our work-study and scholarship possibilities. 
Wonderwell Mountain Refuge Full Calendar
About the Teachers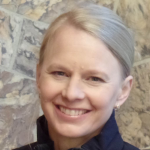 Lama Liz Monson
Spiritual Co-Director, Managing Teacher
Lama, Spiritual Co-Director of Natural Dharma Fellowship Elizabeth Monson, PhD, is the Spiritual Co-Director of Natural Dharma Fellowship and the Managing Teacher at Wonderwell Mountain Refuge. Liz was authorized as a dharma teacher and lineage holder in the Kagyu Lineage of Tibetan Buddhism and has been studying, practicing and teaching Tibetan Buddhism in the Kagyu and Nyingma lineages for over thirty years. She has studied with Pema Chodron, Tulku Orgyen Rinpoche, Chokyi Nyima Rinpoche,..