---
Friday & Saturday May 1 & 2, 2021

---
This will be the central location for resources, additional materials, and your Zoom link for the entire event.
---
You will find…
Materials Tab (above):  Any supporting materials (when available)
Zoom Link Tab (above):  The link for the entire event – retreat, series, program, etc.
Resources below – Available 7-10 days after conclusion of the event
---
---
Additional Materials
---
Hung Symbol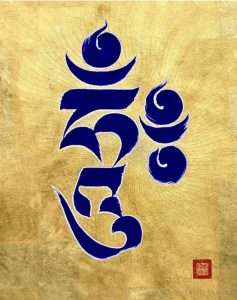 ---
Notes from sangha share following dyad conversation:
When do you feel most in line with the dharma with voice? When do you find that voice? What is your deeply truest voice and how do you find it?
When do you feel most in line with the dharma with voice? When do you find that voice? What is your deeply truest voice and how do you find it?
Authentic speech.....honest; vulnerable; open; unchoreographed; spontaneous;
humble; body, mind heart in alignment; 

intention to connect to the other

Ron - In line with 4 immeasurables – loving, kind, equanimity, taking joy in other.
Eric - Coming from authentic presence, care, and consideration for self and others. Right speech – timely, truth, affectionately, consideration of benefit to the other person, place of good will, can feel it in your heart if it resonates and brings joy and intimacy.
LW – Are right speech and authentic speech the same or different? How our opinions and beliefs are being expressed. Authenticity – staying with the thread of connection.
Bob - Enlightened speech - Compassionate, affirming what needs to be affirmed, and challenging what needs to be disrupting. With a sense of care. For self and other. Accessing by deep listening – to self, to the heart, intuition, what needs to be said and listening to the other. Energetically, in their embodied presence.
Joel - Image of a sailboat run by community – that which arises out of a community. "Self resound of the dharmata" that which naturally springs from all aspects of the world and expresses itself.
Janine – getting out of our own way, co-creation, letting something come through. Deep intention for connection, but need for vulnerability.
Suzanne – Skillful compassion, compassionate skillfulness. Fierce compassion. Knowing when to stop speech, when it is enough. Not wanting to confront has kept from being authentic. Voicing needs is being authentic.
LW – MLK speeches, compassionate and skillfull and persuasive. Power of speech when it is skillful and truth telling. Connection between authentic voice and truth telling. Finding the courage to speak truth when inconvenient and needs to be said. Can be in conflict with terms of "right speech". Parts of self can be fierce which can feed or impede skillful speech.
Gina – Creativity as speech, our creative expression is our speech. New, different, that hasn't been said, beyond actual vocalization of words.
Francine – relative and absolute – right speech in realm of relative. Enlightened speech associated with emanation of the absolute into the relative. AA slogan – "never say anything unless it is necessary, true and kind."

Jai – WAIT – Why am I talking? Silence, questioning motivation for talking. Vimalakirti. Thinking about when to speak.

LW – right speech – what not to say, not lying etc.
Natural Dharma is inviting you to a scheduled Zoom meeting.
Topic: Natural Freedom 2 Spring Retreat – Lama Willa
Time: May 2, 2021 09:00 AM Eastern Time (US and Canada)
Every day, 1 occurrence(s)
May 2, 2021 09:00 AM
Please download and import the following iCalendar (.ics) files to your calendar system.
Daily: https://us02web.zoom.us/meeting/tZMrf-6rrD8qGd3blefMfpe_QEmoqMd9xglC/ics?icsToken=98tyKuGvqDMtGdaRsBqORpwEBIqgKOnzpilfjacOnhPgBQ1VcgbJB8dPPaNSFIHI
Join Zoom Meeting
https://us02web.zoom.us/j/87687324039?pwd=SDRzR09NUy9YZnBWNnYxUVB4YUZuQT09
Meeting ID: 876 8732 4039
Passcode: 710464
One tap mobile
+13017158592,,87687324039# US (Washington DC)
+13126266799,,87687324039# US (Chicago)
Dial by your location
+1 301 715 8592 US (Washington DC)
+1 312 626 6799 US (Chicago)
+1 646 558 8656 US (New York)
+1 253 215 8782 US (Tacoma)
+1 346 248 7799 US (Houston)
+1 669 900 6833 US (San Jose)
Meeting ID: 876 8732 4039
Find your local number: https://us02web.zoom.us/u/kJWrOwKMl