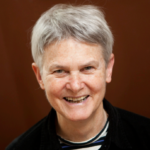 Dharma Teacher
NDF Board President
Kathe McKenna currently serves as President of Natural Dharma Fellowship's Board of Directors. She is deeply engaged in shepherding this unique, collaborative Buddhist dharma vessel. She helped launch the feisty, multi-faceted human service provider, Haley House, and lead it through 50 years of organic growth.
Kathe's roles as mother, wife, and grandmother have enriched her vision and sparked her commitment to breaking down the barriers that solidify inequality – from dusty back roads in Mississippi to chanting and drumming with the Nipponzan Myohoji monks from the Peace Pagoda.
Faced with the joint pincers of capitalism and the degraded state of our environment, Kathe is moving her attention in this new direction.
Upcoming Event with This Teacher