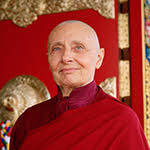 Visiting Teacher
Dharma Dialogues Guest
Jetsunma Tenzin Palmo was born in 1943 and raised in London. She became a Buddhist while still in her teens, and at the age of twenty travelled to India by boat. She was one of the first Westerners to be ordained as Tibetan Buddhist monastic.
The international bestseller "Cave in the Snow" chronicles her twelve years of seclusion and meditation living alone in a remote Himalayan cave. In 1999, deeply concerned with the plight of Buddhist nuns, she established Dongyu Gatsal Ling Nunnery in India. In 2008 His Holiness the 12th Gyalwang Drukpa, head of the Drukpa Kagyu Lineage, bestowed upon her the rare title of Jetsunma (Venerable Master). She has taught on six continents, spreading the Buddha Dharma far and wide, and is today among the world's prominent Buddhist teachers.
In addition to her role as Founding Director of the nunnery, Jetsunma is President of Sakyadhita International Association of Buddhist Women, Founding Director of the Alliance of Non Himalayan Nuns; Honorary Advisor to the International Network of Engaged Buddhists and Founding Member of the Committee for Bhiksuni Ordination.