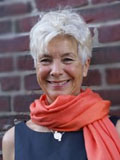 Meditation Teacher
Jane lives and works in Portland, Maine.  She has taught The Feldenkrais Method® of Somatic Education for thirty years in classes, workshops, and private hands-on sessions.  She brings this body and breathing awareness to her teaching of meditation.
She was first introduced to Tibetan Buddhism by Lama Tsultrim Allione, then Lama Surya Das, Lama John Makransky, Brendan Kennedy, and Lama Willa Miller.
She began a meditation practice group in Portland in the late '90's that continues to this day every Thursday evening from 5:30-7:00.  She is married, a mother and a grandmother, and takes great pleasure in the outdoors.